Seton Hall Hosts Congressman Pascrell to Acknowledge $1.14 Million in Federal Funding for Simulation Labs
Wednesday, May 10th, 2023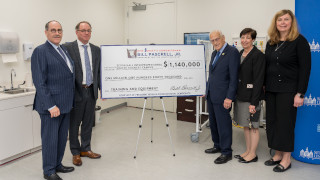 On May 4, Dean Brian Shulman, President Joseph Nyre, Congressman Bill Pascrell, Dean Marie Foley and Coordinator of Clinical Skills Lab Kathy Sanok (L to R) celebrated the $1.1 million federal investment for enhancements to the simulation labs.
On May 4, Seton Hall welcomed Congressman Bill Pascrell to its Interprofessional Health Sciences campus where he met with University students, faculty and administrators. The visit was an opportunity for Pascrell to tour the campus' simulation labs, for which he secured $1.14 million in federal funding. During his visit, Pascrell was thanked for his advocacy on behalf of the university and its students.

Vice President of University Relations Matthew Borowick, M.B.A. welcomed Pascrell and thanked him for his efforts, along with those of Senators Robert Menendez and Cory Booker, in securing funding for lab improvements. The upgrades, which will include new equipment and control rooms, will further ensure that future healthcare professionals are clinically ready before interacting with real patients.

Seton Hall President Joseph E. Nyre, Ph.D., also addressed the crowd of 30 people and said, "The people of New Jersey deserve nursing and health science practitioners who possess the latest training from outstanding faculty on leading-edge equipment. That is exactly what we are accomplishing here, thanks in large part to the Congressman Pascrell and others."

During his remarks, Pascrell praised Seton Hall's leadership in health education and the establishment of a new standard of clinical training for nurses, occupational therapists, physician assistants, physical therapists, speech pathologists, and athletic trainers. He predicted that in 10 years, the campus's mental health work would have a significant impact. He also acknowledged the sacrifices made by healthcare practitioners during the pandemic and the need to redouble attention to education, as well as the importance of investing in healthcare education.

"Ahead of National Nurses Week, I am thrilled that my office was able to secure $1.14 million for the tremendous students and staff at Seton Hall's Interprofessional Health Sciences Campus," said Pascrell. "Seton Hall has long been recognized for its leadership in health education. But President Nyre along with the entire Seton Hall team set it apart from the pack. With this federal grant, Seton Hall's College of Nursing and School of Health and Medical Sciences can continue to train our future medical professionals with the best tools and resources available. I thank my friends at Seton Hall for welcoming me today and I look forward to working with them for years to come."
The Congressman concluded by expressing his hope that the students who leave Seton Hall's Interprofessional Health Sciences campus will be the bedrock of New Jersey's healthcare future, serving their communities with good training, good values, and a desire to serve.

The funding proposal was prepared by Kathryn Sanok, coordinator of the Clinical Skills Lab in the College of Nursing, and Jennifer McCarthy, director of Clinical Simulation in the School of Health and Medical Sciences, who drew upon their years of experience and ambitious plans to keep the IHS students' experience on the cutting edge of healthcare education. Sanok and McCarthy noted that the upgrades and equipment will allow Seton Hall's College of Nursing and School of Health and Medical Sciences to prepare future healthcare professionals to work in a patient-centered, integrated healthcare delivery system and will address healthcare workforce shortages and demand throughout New Jersey and beyond.

"We've watched several students here today from their early days learning simple assessment skills such as taking blood pressures to masking firsthand and simulation," commented Sanok. "How they have grown into competent clinicians who will soon be transitioning to licensed professionals. With the funding procured by you, we can do more to refine many of these students' tactile skills and interpersonal communication to improve patient safety and outcomes. Thank you very much."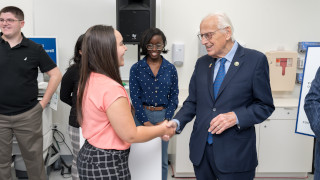 Kate Fontes was one of four physician assistant students from the School of Health and Medical Sciences who were invited to meet with and thank Congressman Pascrell.
Kate Fontes, a physician assistant student in the School of Health and Medical Sciences, joined the reception to thank Representative Pascrell for his commitment to future healthcare professionals like herself who will benefit from the technology upgrades to Seton Hall's simulation center. "We're all here because we have such a passion for helping people," she said.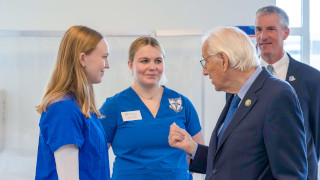 Nursing students Reilly Williams and Zoe Greene, along with VP of University Relations Matthew Borowick, welcomed Congressman Pascrell to the simulation labs at the IHS campus.
Reilly Williams, sophomore nursing student, commented on the upcoming improvements. "Sim labs are so helpful in giving us the time to practice with 'patients' who are very realistic while providing us with safeguards – I truly believe this helps us become better nurses."

Dean of the School of Health and Medical Sciences Brian B. Shulman, Ph.D., expressed his gratitude to Pascrell for the federal funding and his continued support. "We were so honored to have Congressman Pascrell visit the Interprofessional Health Sciences campus and thankful for the generous federal funding he secured. We're looking forward to cutting-edge enhancements to our simulation program."

Dean of the College of Nursing Marie Foley, Ph.D., added, "As nurses, we are accustomed to accomplishing a lot with limited resources, but this funding will allow us to achieve even more. We are grateful for the investment that will improve the educational opportunities for our students, enhance accessibility and strengthen training to guarantee that all residents of New Jersey can receive top-notch care. It's heartening to know that we have advocates like you in Congress who are fighting for our community's needs."
Categories: Health and Medicine