Retreat Focuses on Catechesis in the 21st Century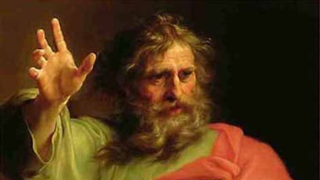 Pompeo Batoni's Saint Paul painting.
On Saturday, July 30 from 9 a.m. to 5 p.m., Immaculate Conception Seminary School of Theology (ICSST) will present "The Joy of Discovering and Communicating Our New Life in Christ: Catechesis in the 21st Century" in Bethany Hall at Seton Hall University.
The day will offer reflection, prayer, and discussion on the ministry of lay catechists and the collaborative support catechists and ordained ministers can provide for one another.
Featured speakers include leaders from The Lay Centre at Foyer Unitas (Rome, Italy), Donna Orsuto, S.T.D. and Felipe Domingues, Ph.D., and ICSST's Patrick Manning, Ph.D., associate professor and chair of pastoral theology.
Part of a summer graduate course, the day is open to the public. Catechists, religion teachers and faith formation leaders are encouraged to attend, as well as all those interested in Pope Francis' papal letter on the ministry of catechists, "Antiquum Ministerium."
In-person registration for the event is now closed; livestream registration is still open, which will include select portions of the day. A link to join the broadcast will be provided via email.
"A year ago, Pope Francis formally recognized the lay ministry of catechists, stressing their vital role in sharing the Good News of Christ and supporting ordained ministers in building up His Church," said Dianne Traflet, J.D., S.T.D., associate dean for Graduate Studies and Administration and assistant professor of Pastoral Theology at ICSST. "So, in collaboration with The Lay Centre, this event was designed to strengthen the collaborative ministry between pastors, seminarians and laity through reflective presentations, discussions and more."
For more information and to register, please visit the event page »
The summer graduate course, "Catechesis in an Ecumenical and Global Context," is also taught by Donna Orsuto and will examine the strengths and weaknesses of diverse models of catechesis and deeply reflect on how to promote this collaborative ministry in the United States. For more information on the course, please contact [email protected].
The event is part of ICSST's The 4:12 Pathway for Pastoral Leadership: Building an Authentic Culture of Discernment project, which aims to educate, form and support the next generation of pastoral leaders through initiatives such as partnering with The Lay Centre. ICSST will continue this partnership with The Lay Centre next year by jointly hosting an ecumenical symposium for catechetical formators in Rome in July 2023.
About ICSST
Immaculate Conception Seminary is a House of Formation for the Roman Catholic priesthood and the School of Theology of Seton Hall University. Forming priests for God's people has remained the Seminary's constant focus, and the Seminary faculty—well-educated authors and scholars in their own fields—devote their time and energy to preparing these men for priesthood amidst the challenges of the 21st century. The School also focuses on the education of lay men and women in theology, permanent deacons, religious who are not studying for ordination, and already-ordained priests—not only providing for them academically, but also for their personal, pastoral, and spiritual formation.
Categories: Campus Life, Faith and Service