Pirates Develop Marksmanship Skills at Fort Dix
Wednesday, April 5th, 2023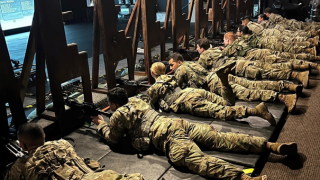 Rifle Qualification
From 24-26 February, the Pirate Battalion flew on UH-60 Blackhawk Helicopters from the West Orange Armory to Fort Dix, New Jersey for marksmanship training, pistol and machine gun familiarization, and rifle qualification. Cadets were also exposed to indirect fire techniques where they learned to call for fire and learned valuable aspects of the math and science that is the foundation of Field Artillery. Freshman Cadet Jake Murken said, "it was my first real "military" experience and my first time firing a weapon. I feel incredibly lucky to be given the opportunity to experience a weekend like this and I really enjoyed being able to qualify on something I've never used before."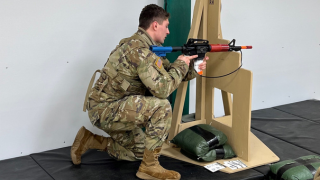 Cadet Connolly practices a kneeling fire position.
Prior to live fire training cadets practice their marksmanship skills in a virtual reality environment designed to test their breathing techniques, trigger squeeze, and decision-making identifying friend and foe. The Engagement Skills Trainer (EST) is designed to simulate live weapon training events that directly support individual and crew-served weapons qualification, including individual marksmanship, and judgmental escalation-of-force exercises in a controlled environment. To commission as an officer in the United States Army, all Cadets regardless of their branch must be qualified on their individual M4 rifle. Cadet Haque, a junior, explained, "It was a helpful experience for me and every other cadet just to get a basic understanding and what to expect in the range."
Assisting the Pirate Battalion was retired Army Colonel Keith Pellegrini, a US Army special forces officer who deployed numerous times during the war on terror. Cadets were inspired by his service and motivated by the knowledge and experience he brought to the training environment. Sophomore Cadet, Nicholas D'Armetta described his first experience shooting; "Being able to fire live weapons for the first time was an experience I'll never forget! I qualified on my first try with the M4 rifle and I can't wait to go again."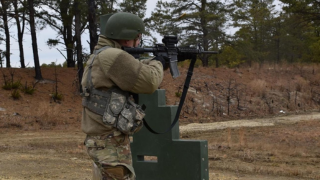 Cadets use virtual reality to learn shooting techniques.
During this Range Density, cadets familiarized themselves with the Army's new M17 pistol and the M249 Squad Automatic Weapon. While at the range, Cadet Haque reflected, "the most important thing I learned from this range is shooting with the right process and technique and that goes for every weapon system. Regardless of what weapon it is, proper maintenance and handling of the weapon is a crucial part of a mission accomplishment."
After firing these weapons, cadets learned about the proper care and maintenance of their equipment. Each cadet was required to clean their individual weapon and demonstrate their proficiency in disassembling, re-assembling, and performing a functions check on the rifle. Instilling in our cadets confidence in their training, confidence and proper care of their equipment, and confidence in their fellow soldiers is a critical component of the army leader development model. Our Pirates excelled and will take these skills to Fort Knox, Kentucky this summer.
This range density operation had a tremendous impact on our team. Despite the challenges of cold weather, our cadets succeeded. The Pirate Battalion looks forward to shooting at the range again next year.
Categories: Nation and World, Science and Technology