Seton Hall Appoints Interim Deans to Lead School of Health and Medical Sciences and College of Nursing
Seton Hall University is proud to announce the appointment of two esteemed faculty members as interim deans for the School of Health and Medical Sciences and the College of Nursing.
Vikram N. Dayalu, Ph.D., CCC-SLP, and Kristi Stinson, Ph.D., R.N., A.P.N.-B.C., will bring their expertise and experience to their respective roles, advancing the University's strategic goals and fostering collaboration among students and faculty on the Interprofessional Health Sciences campus. Dayalu will assume his role as Interim Dean of the School of Health and Medical Sciences on Monday, July 3, while Stinson will commence her duties as Interim Dean of the College of Nursing on Thursday, June 15.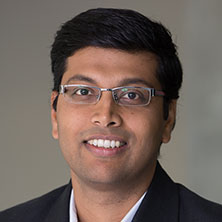 Vikram N. Dayalu, Ph.D., CCC-SLP
Dayalu has been a valued member of the Seton Hall community since 2003, when he joined as an associate professor in the Department of Speech-Language Pathology. Recognized as an expert in speech fluency disorders, he has published more than 25 peer-reviewed articles and has played a significant role in securing grants exceeding $1 million. He also serves as a site visit chair for the Council of Academic Accreditation in Speech-Language Pathology and Audiology.
Under Dayalu's leadership, the Master of Science in Speech-Language Pathology program has achieved notable accomplishments, including re-accreditation for two, eight-year cycles with no compliance issues. He also spearheaded the development of a dual-degree program in collaboration with the Department of Psychology, expanding opportunities for students. In addition, Dayalu has fostered community partnerships and interdisciplinary collaborations, enhancing clinical education and research efforts. Notably, he successfully transitioned the pre-professional speech and language science course sequence to a distance-education platform well ahead of the pandemic.
Kristi Stinson, Ph.D., R.N., A.P.N.-B.C.,
Stinson has a longstanding connection with Seton Hall, having earned a master's degree in nursing in 2002 and a doctorate in nursing science in 2013 from the University. She has accumulated over 25 years of experience as a nurse and nurse practitioner. Her clinical background includes diverse settings such as med-surg, neurology, intensive care, pain management, and cardiology health promotion/preventive services.
Joining Seton Hall as a faculty member in 2013, Stinson has become an associate professor in the undergraduate program. Her contributions to the College of Nursing include serving as assistant chair of adult courses and chair of the undergraduate department from 2019 to 2023. Recognized for her excellence in teaching, she received the College of Nursing's Teacher of the Year award in 2018, as well as the Daisy Award for Teacher of the Year, a prestigious accolade bestowed by nursing students.
Stinson's commitment to research is evident through her designation as the Researcher of the Year for the College of Nursing in 2017. Her current research interests revolve around understanding the learning characteristics of Generation Z nursing students and the significance of faculty mentorship in nursing education. Additionally, she serves as co-chair of the Middle States Re-Accreditation Self-Study Working Group, Standard IV, where she contributes to ensure the student experience is fully supported.
"I am very grateful to Interim Deans Dayalu and Stinson for their willingness to take on these important leadership responsibilities," said Provost and Executive Vice President Katia Passerini, Ph.D. "Their dedication to education, research and community engagement will undoubtedly strengthen the University's commitment to excellence in healthcare and nursing education."
Categories: Health and Medicine