New Grant-Funded Interprofessional Program Trains Students to Help Combat the Opioid Crisis
Wednesday, September 25, 2019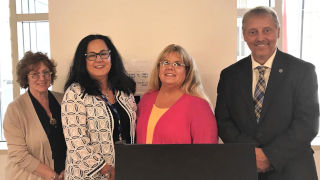 (Left to right) Laura Goshko, Kathleen Neville, Laura Leahy and Stanley Terlecky at the August 22 training program.
In May 2018, the Seton Hall University and Hackensack Meridian Health Interprofessional Health Sciences (IHS) Campus Building opened its doors to faculty, administrators and students in the College of Nursing, School of Health and Medical Sciences, and the first inaugural class of the Hackensack Meridian School of Medicine at Seton Hall University. Soon after the transitional move from the main campus to the new state-of-the-art IHS campus, while still surrounded by unpacked boxes, an interprofessional team—led by Project Directors Dr. Kathleen Neville (Principal Investigator) from the College of Nursing; Dr. Stanley R. Terlecky from the School of Medicine; and Professor Laura Goshko, M.S., from the School of Health and Medical Sciences—immersed in grant writing to address the ever-escalating opioid epidemic in America.
The purpose of this grant is for program development to increase access to medication-assisted treatment (MAT) services for individuals with an opioid use disorder (OUD) by ensuring educational/training for medical, physician assistant and nurse practitioner students. While MAT has been found to support recovery from opioid addiction, MAT remains underutilized and there are an insufficient number of practitioners trained and waivered to prescribe MAT—both nationally and in New Jersey.
In September 2018, the U.S. Department of Health and Human Services' Substance Abuse and Mental Health Services Administration (SAMHSA) awarded Seton Hall University, only one of twenty-nine universities nationwide, an interprofessional grant to train nurse practitioner, physician assistant and medical students on medication-assisted treatment for opioid use disorders. This grant aims to increase the number of individuals completing the training, as well as increase the number of individuals with a DATA waiver, with the final outcome to ultimately increase the number of healthcare providers who are eligible to prescribe MAT for individuals with opioid use disorders.
This three-year grant has enabled the development and implementation of an interprofessional DATA-Waiver Training Program that is embedded in the curriculum in all three schools. This DATA-Waiver program consists of 24 hours of didactic training for nurse practitioner and physician assistant students and eight hours for medical students, followed by 10 hours of clinical training at Hackensack Meridian Health Carrier Clinic in Belle Mead, New Jersey.
On August 22, more than 160 students and faculty attended the first in-person event. This initial presentation led by Laura Leahy, D.N.P., an expert addictions specialist, provided an overview of the opioid epidemic, followed by topics such as federal legislation, clinical management with MAT, pharmacology and office-based treatment. Preliminary evaluations of this large-scale IPE event yielded highly favorable responses; students rated the overall IPE learning experience, knowledge gained regarding other health professional roles, values derived from the experience and expertise of Dr. Leahy positively. In particular, students reported that the case studies and personal stories of patients under Dr. Leahy's care were interesting, engaging and facilitated knowledge acquisition.
Additional curricular content to be delivered in subsequent modules includes topics delineated in the Comprehensive Addiction and Recovery Act (2016), such as opioid maintenance and detoxification, patient assessments, individualized treatment planning, counseling and support services, staff roles, control of diversion as well as additional best practices. This DATA-waiver training is now a standard part of the curriculum in the medical school, as well as in the physician assistant and nurse practitioner programs.
At the conclusion of this grant in 2021, it is anticipated that more than 400 students will have successfully completed the DATA 2000 (DEA-X) Waiver training program, making them eligible to obtain a DEA-X to prescribe MAT according to the States' Regulations regarding Prescriptive Practice. With increased numbers of health professionals who can prescribe MAT, treatment recovery outcomes for individuals with opioid use disorders will improve.