Father Colin Kay Named Interim Vice President for Mission and Ministry
Tuesday, September 15th, 2020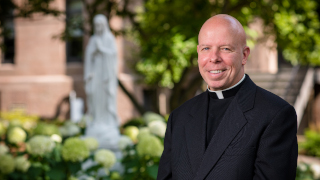 Father Colin Kay has been appointed to the Office of Interim Vice President for Mission and Ministry at Seton Hall University. The appointment is effective September 21, 2020.
"Father Colin Kay is the living product of Seton Hall," said President Joseph P. Nyre. "His career is a testament to the service of God, family, country and each other, and a prime example of Mission and Ministry at work. I invite you all to wish him well in this next step of his journey on this, a Seton Hall Life."
Father Colin comes to this new position from his role as Director of Campus Ministry, which itself was a homecoming for the priest who grew up in Ivy Hill and called Seton Hall's campus his back yard as a child in the 70s. As a young man, Colin attended Seton Hall Prep back when the high school was still housed on the South Orange campus. For college, he studied Latin at Columbia University, with a year abroad at Trinity College in Dublin. After graduation he entered the military and served four years in the Army.
In 1988 he came home again to Seton Hall where he studied at the Immaculate Conception Seminary School of Theology. He then spent seven years in a monastery in Vermont, returning to Ivy Hill in 1999 in part to care for his mother. He returned again to Seton Hall, this time working for the University as a writer and editor in the Office of the President. Completing his seminary studies on campus, he graduated and was ordained for the Archdiocese of Newark in 2005. He was assigned to parish ministry at Saint Anne's in Fair Lawn and then to high school chaplaincy at Bergen Catholic in Oradell, before returning home again to Seton Hall in 2019 as Director of Campus Ministry, a position he will maintain while taking on these new responsibilities.
"Seton Hall has always been close to me," said Father Colin. "My mind, heart and spirit found a home here when I was a kid, and I'm grateful now for the opportunity to minister and to work with our priests and faculty and staff to help in the formation of our next generation of servant leaders. Together, seeking the truth and doing it in love, we'll show what great minds (and hearts) can do."
In the role of Vice President for Mission and Ministry, Father Colin will serve to facilitate mission training and recruitment at the University and work with students through any number of outreach initiatives that hold Catholicism at its core. He will serve as the Director of the Center for Vocation and Servant Leadership and supervise the work of the University Chaplain, the South Orange Campus Ministry department, DOVE (Division of Volunteer Efforts), and the Chaplain of the IHS Campus in Nutley-Clifton.
Father Colin will also serve as a liaison with the Archdiocese, on behalf of the President and will work with the Minister to the Priest Community and the Director of the Center for Catholic Studies on mission-related events, lectures and programs that highlight Catholicism and the Catholic intellectual tradition.
"We also wish to express our extreme gratitude to Monsignor Ziccardi for his work in this position over the course of these many years," said Nyre. "His tireless advocacy for the University as well as the minds, hearts and spirits of our students, faculty and staff is a legacy that abides and will remain a continued point of pride here at Seton Hall."
Categories: Campus Life, Faith and Service