Ceramics Exhibit Launched on Google Arts and Culture
Monday, February 1st, 2021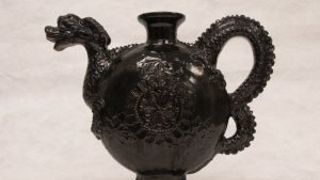 Dragon Ewer (15th-16th century) China Walsh Gallery at Seton Hall University.
The Walsh Gallery has launched a new exhibit in Google Arts and Culture featuring some of the highlights of Seton Hall's collection of ceramics. The exhibit draws from Wang Fang-yu's Asian Art collection and Herbert Kraft's Archeology and Anthropology collection to show connections between material cultures widely disparate in both time and place.
According to Gallery Director Jeanne Brasile, this exhibit is not only about the formal qualities of the pieces but most importantly how they reveal the technological development of cultures from the Neolithic era to the twentieth century. The wealth of world cultures featured in this exhibit demonstrates the breadth and scope of Seton Hall's museum collections.
Categories: Arts and Culture