Call for Submissions, Conference on Civilizational Prospects: "Engaging Wicked Problems"
Thursday, December 15th, 2022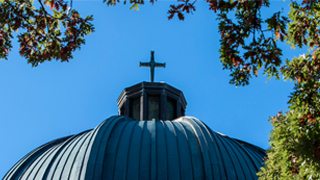 A new and exciting conference open to the Seton Hall University community and beyond will take place in Fall 2023, titled "Civilizational Prospects: Engaging Wicked Problems."
Despite the many advances that humanity has made over the millennia, the world increasingly seems to be besieged by "wicked problems" – those that are complicated (with lots of interacting parts, requiring a unitary solution), complex (difficult and tricky to solve, with feedback and feedforward loops) and inherently interdisciplinary.
In order to address this complex and timely topic, organizers are looking to offer an array of exciting sessions that consider the greatest challenges to the future of our civilization from one or more of four intersecting perspectives: evolutionary science, global studies, theology, and future studies.
Proposals are now being accepted and submissions are open to Seton Hall undergraduate/graduate students, faculty and those outside of the University community. Conference organizers welcome proposals for:
Oral or poster presentations
Individual or co-authored papers
Integrative panel discussions, with the proviso that student panels must have a faculty discussant
Written proceedings
Details on abstract submissions, including a list of springboard topics and/or possible questions, are now available on the conference website.
The objective of the conference is to foster interdisciplinary conversations that can integrate some or all of these four intellectual streams and forge continuing academic partnerships within Seton Hall and across the wider academic community. Most importantly, the aim is to explore concrete solutions or tangible pathways to address acute civilizational challenges from an interdisciplinary perspective.
"In an age, they say, of so much information but too little wisdom, pondering our civilizational prospects could hardly be more important," commented Anthony Haynor, Ph.D., associate professor of sociology and conference co-chair. "We invite scholars to our conference to reflect on where we are now, how we have gotten to this point, and the civilizational challenges that lie ahead in the spheres of politics, economics, religion, education, culture, and the environment."
Presenters from all fields—including the humanities, physical and biological sciences, mathematics and computing, health sciences, social sciences, business, diplomacy, philosophy and theology —and all professions are encouraged to submit their work for consideration. Additionally, presentations that engage the Catholic Intellectual Tradition are especially encouraged, but perspectives from all faith traditions are welcome.
For more information, please contact Professors Anthony Haynor,Lisa Rose-Wiles or Youssef Yacoubi with any questions.
The Conference on Civilizational Prospects: "Engaging Wicked Problems" is co-sponsored by the Center for Catholic Studies and the Center for Vocation & Servant Leadership, and additionally supported by an Academies Seed Grant from the Office of the Provost.
Please note: The conference has been postponed until Fall 2023. Submissions are still open and are being accepted at this time.
Categories: Faith and Service, Research