Cadets Take to Civil War Battlefield to Bring Leadership Lessons to Life
Wednesday, March 29th, 2023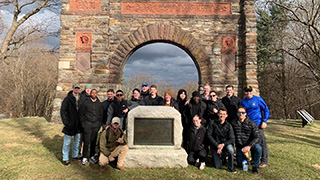 Site of New Jersey Army National Guard Brigade
From February 17-19, Seton Hall's Army ROTC Pirate Battalion visited the Antietam Battlefield and National Park in Maryland for their annual staff ride. A staff ride is a time-honored military tradition within the United States Army where students role-play key leaders, analyze the actions and decisions, and walk the actual ground where Army leaders deployed their troops. The staff ride is a unique technique for conveying the lessons of the past to present day leaders. The purpose of these trips is to further the professional development of our future Army leaders. This year, seniors from the Pirate Battalion spent the weekend studying the bloodiest day in American military history, September 17th, 1862.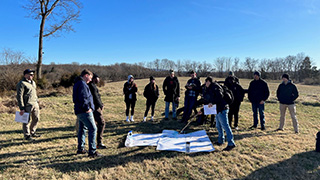 CDT Thomas Kachler explains fire and maneuver
With the help of two Army historians, Sergeant First Class Aaron Heft and Captain Jonathan Bratten, our students took a critical approach to the various aspects of this battle, which included the political context and strategic objectives of both the Union and Confederacy leading up to the battle, the important logistical and tactical accomplishments by both the Army of Northern Virginia and the Army of the Potomac, and an evaluation of key leaders including Generals McClellan and Lee. According to Cadet James Cummins, "It was great getting to learn about the Battle of Antietam from an analytical military perspective. There were a lot of amazing leadership lessons that I can look back on later in my career."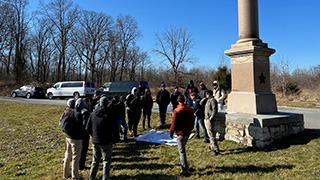 Cadets discuss the tactical decisions of General Burnside and McClellan
As cadets walked the actual ground where the fighting was conducted, they take turns briefing their classmates and orienting the group from the map to the physical space we stood. "The opportunity to share insight on different tasks happening on the battlefield based on our personal branches was one of the greatest tactical tasks ever. Being able to analyze the battle in the mindset of a combat arms officer boosted my confidence in becoming an effective leader," said operations officer, Cadet Sam Obeng. Cadets shared their ideas about the use of spying and gathering intelligence, the challenges of carrying hundreds of pounds of supplies and equipment up steep hills, and the effect artillery cannons have on groups of soldiers in a cornfield or trying to cross a bridge.
The cadet in charge of the Pirate Battalion, Chrystal Corcodilos explained, "Being able to be on the ground of a battle and analyzing perspective, decisions, and tactics is the most eye-opening experience I have had in my career here in ROTC. Staff rides give that opportunity to see the strengths and weaknesses of leadership while immersing yourself in the minds of the leaders at the time." This is an experience that every cadet involved will never forget and that will help shape their future careers as officers in the United States Army!
Categories: Campus Life, Nation and World