Archives Acquires New Medieval Manuscript Facsimiles
Wednesday, June 22nd, 2022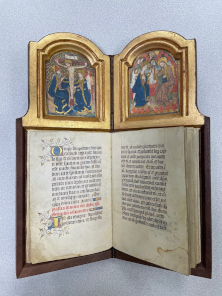 The Msgr. William Noé Field Archives and Special Collections Center has added two medieval manuscript facsimiles to its collections, the Book Altar of Philip the Good, and the Bible Moralisée De La Bibliothèque Nationale. Facsimiles offer students and faculty the opportunity to interact with precise reproductions of medieval manuscripts, even down to flaws such as irregularity in the leaves. Both facsimiles have companion volumes that provide transcriptions and commentary on the texts.
The Book Altar of Philip the Good, Duke of Burgundy who ruled 1419-1467, is a unique manuscript, comprising a diptych altar attached to the top of a prayerbook, so that as he toured his realm he would always have a portable altar to hand that he could pray in front of, regardless of where he found himself.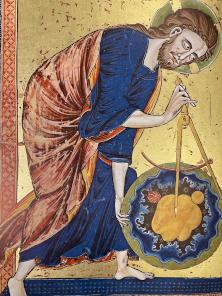 The Bible Moralisée, or Moralizing Bible, was likely created in Paris between 1220-1230 for a member of the Capetian family. It is a stunning example of early Gothic art. This distinct genre of medieval Bibles had illuminations of biblical events or scenes accompanied by further images that were explanatory or moralizing in nature.
These acquisitions join the facsimile of The Book of Kells (c. 800) at the Archives, providing the Seton Hall community with access to reproductions of some of the most exquisite medieval manuscripts produced in the European Middle Ages.
Categories: Research