Leadership Student Co-Hosts Christmas at the Hall
Monday, December 12th, 2022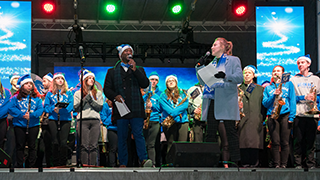 Claire Wolfe & Dean Roberts Hosting Christmas at The Hall
Christmas at the Hall, the annual event at Seton Hall that consistently marks the university as the number one school for "Holiday Events" by Best College Reviews had a new co-host this year, Claire Wolfe. Wolfe is a senior visual and sound media major and a member of the Buccino Leadership Institute.
Wolfe has always cherished this event and the holiday season at Seton Hall. She exclaimed how "it's always those HUGE community-based Seton Hall events that make me incredibly proud to be a pirate. So, when I heard that I would have the chance to take part in that, especially in such an involved way, I knew I had to do it! The Christmas Tree Lighting Ceremony is such a Seton Hall staple, and I'm so grateful to have gotten the chance to not only perform with the Theatre Council but co-host it as well."
When asked about how she got to hold this coveted position, Wolfe explained how "as funny as it sounds, it just kind of happened! Through my internship between Awesome Films and Seton Hall, one of the women I work with, Linda Karten, heard that they were looking for a new co-host, and gave them my name. It was such an amazing thing that someone on the University level wanted me to be on stage and take part of such an essential part of the holiday season at The Hall."
This is not the first time that Wolfe has been recognized by others as an enthusiastic and natural-born leader. During her sophomore year, Wolfe was chosen by her peers to become an Interdisciplinary Team (IDT) leader. Wolfe attained this role after giving a riveting pitch in front of her peers, distinguishing her idea among a competitive group of applicants to become one of the few semester-long projects for sophomore leadership students.
When asked about leadership and this hosting opportunity, Wolfe noted how she's "always so thankful to the Institute for allowing me to strengthen many skills over the years. While I've always considered myself to be a good public speaker, through the many public speaking projects, such as IDTS as well as smaller cohort presentations, I've really learned to tell the difference between excited energy and nerves. Thanks to that understanding, I can be even more confident and comfortable in front of people - even if it's the entire Seton Hall community. "
The institute was proud to see one of its own on the stage leading our student body in these festivities and we would like to wish all students, faculty, and friends a happy holiday season!
Categories: Campus Life