Tuesday, November 17, 2020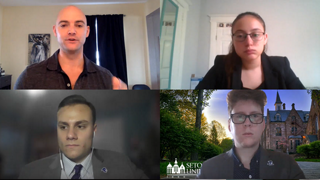 Seton Hall Alumnus and intelligence officer, Alex Saborsky meets with Diplomacy students from the Buccino Leadership Institute.
Alex Saborsky, '08, a U.S. Navy intelligence officer and Seton Hall alumnus, spoke virtually with the Diplomacy Leadership Cohort about long-term leadership skills and the value of strong mentorship. As a guest of the Fall 2020 Diplomacy Leaders Speaker Series, Alex spoke about his trials and tribulations starting from his time as an undergraduate at the School of Diplomacy to working as a leader in the United States Armed Forces.
Alex's journey from Seton Hall to the Navy taught him the importance of mentorship and active engagement. He emphasized to students how opening yourself up to diverse opportunities early on gives you the greatest number of chances to develop leadership qualities and management skills for the future. Furthermore, active engagement in relationships, academics, and professional commitments is far more valuable than broad participation in a plethora of varying pursuits. Alex highlighted the value of knowing your own principles and priorities, the limits and strengths of your team members and how to lead both yourself and others towards the goals of your department or organization. Additionally, Alex differentiated leadership from management by highlighting leadership as an action, not a position. This aligns with the Buccino Leadership Institute's emphasis on excellence as a habit and leadership as a lifestyle.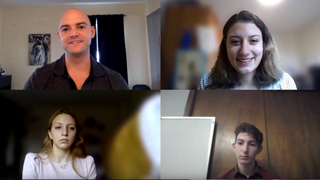 Seton Hall Alumnus and intelligence officer, Alex Saborsky meets with Diplomacy students from the Buccino Leadership Institute.
More specifically, regarding leadership, Alex endorsed Leaders Eat Last author, Simon Sinek. Sinek's lead-by-example approach inspires cooperation and builds trust in leaders because it provides both individuals and teams with a sense of purpose. This purpose is the driving force behind successful leadership and facilitates a productive, focused, and supportive environment. Accordingly, Alex explained that when it comes to his own leadership, he believes "people matter and heard work is authorized." He lives by this value because his experiences as a servant-leader have shown him the positive impacts that result from supporting people who are working towards a common goal. Valuing all members of a team and being a pillar of strong leadership during times of chaos is the key to keeping people motivated to accomplish their goals despite any challenges. Furthermore, Alex emphasized the importance of maintaining professional and sophisticated relationships, recognizing and valuing the limits and strengths of all team members, and developing a style of leadership that is both personable and respected.
Alex graduated from Seton Hall University in 2008 with a Bachelor of Science in Diplomacy and International Relations. During his time at the University, he also earned a secondary degree in Asian Studies with a focus on Chinese language and culture.
After graduation and, upon acceptance into the U.S. Navy, Alex received training on how to analyze and predict the behavior of U.S. adversaries. During his first tour in Bahrain, his responsibility was overseeing an intelligence staff supporting intelligence, surveillance, and reconnaissance aircraft in the Middle East. Following his time in Bahrain, he traveled to Hawaii to work with a SEAL Team and then Virginia to work at the Pentagon. He remains in Virginia and is currently stationed in Norfolk at U.S. SECOND Fleet. 
The Diplomacy Cohort was pleased to hear about Alex's experiences and his advice for students looking to pursue a career in intelligence. Students appreciated Alex's candid nature and his willingness to share his journey with diplomacy from Seton Hall into the U.S. Navy. The presentation provided a worthwhile example of what opportunities a degree in diplomacy can provide, as well as insight on the significance of language learning and cultural competency in this particular diplomatic career. Students of the Cohort valued the opportunity to speak with Alex Saborsky and look forward to meeting more experts from various diplomatic fields. 
The Diplomacy Cohort is part of the H&M Roman Diplomacy and International Relations Leadership Center within the Buccino Leadership Institute. The Institute strives to strengthen values of ceaselessness, change management, character, collaboration, conflict management, courageous communication and civic engagement within all participating students and produce top tier leaders in a multitude of industries. Under the leadership of executive director, Dr. Bryan Price, students at the Buccino Leadership Institute are coached towards excellence. 
Categories: Nation and World