Latino Institute and MLKSA Hosted 2nd Annual ABC Panel
Thursday, March 5th, 2020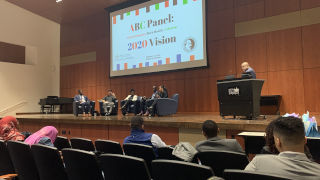 On February 25, the Joseph A. Unanue Latino Institute and the Martin Luther King Scholarship Association hosted the second annual ABC Panel, which stands for African Diaspora, Black Identity, and Colorism, in honor of Black History Month.
This year's event had a special emphasis on political identity in the black community. This discussion highlighted the variety of perspectives on these matters and enabled individuals to have more well-informed conversations around race and identity.
The panel was moderated by Rev. Forrest Pritchett, Director of Special Projects in Freshman Studies and Director of the Dr. Martin Luther King Jr. Leadership Program, and Kyle Younger, Director of Professional Development.
The professional panel included Winston Roberts, Associate Dean of Students; W. Mott, Chair of Department of Political Science and Public Affairs; Minenhle Khumalo, professor of Interdisciplinary Studies; Herv Cherilien, a local detective, and Viannca Velez, Director of Alumni Communication amd Digital Engagement. The professionals answered questions that centered around how their upbringing influenced their identity and lifestyle.
The event aimed to serve as a round-table conversation where the panelists discussed their perspectives on politics as well as their identity in their respective communities.
The student panel included Natalia Rosario, Kimani Key, Mark Wood, Amatullah Shaw and Brandon Hillard. Moderated by Dr. Younger, this panel focused on the 2020 Presidential Race. The panelists, who had various identities, discussed what they were looking for within a Presidential candidate.
In both panels, audience members were able to ask questions. Some that centered on how the professionals deal with their identity. Others asked for methods to increase the passion for politics in students and ways to become a better ally for marginalized communities.
The Latino Institute and MLKSA thank the co-sponsoring organizations of the event: Lambda Sigma Upsilon Latino Fraternity Inc, Adelante, Haitian Organization Promoting Education, Council of Africana Scholars, Chi Upsilon Sigma National Latin Sorority Inc., the Muslim Student Association, and Lambda Theta Alpha Latin Sorority Inc., Lambda Theta Phi Latin Fraternity Inc.
Categories: Arts and Culture, Nation and World