Seton Hall Launches New College of Human Development, Culture, and Media
Tuesday, August 1st, 2023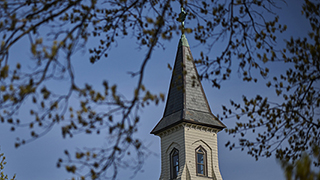 Seton Hall University has launched its College of Human Development, Culture, and Media. The new college opens following more than a year of thoughtful planning and collaborative work among a range of Seton Hall community members, including students, faculty, alumni, staff and administrators.
The new college was developed in accordance with Harvest Our Treasures strategic goals and reframes education and communication as engines of innovation that intersect with each other to drive human development.
University Interim President Katia Passerini said, "The new college epitomizes one of the hallmarks of a Seton Hall education: an interdisciplinary approach to learning that grounds students firmly in their chosen disciplines while expanding their perspectives through collaboration and interprofessional development – setting them apart in their ability to lead in a wide variety of fields and solve society's most-pressing problems."
Interim Dean of the College, Joseph Martinelli, agreed: "It's a really exciting time to be at the University. What's most exciting, I think, is the opportunity to be part of a community of changemakers. The kind of leaders we want our students to become don't really exist yet. Our society is changing at an extremely fast pace and the synergies created by the interdisciplinary nature of the College of Human Development, Culture, and Media will align our students with the careers of the future, equipping them with the skillsets to make a difference in their careers and their communities."
Through the direction of exceptional faculty and dynamic, cross-disciplinary curricula, the College of Human Development, Culture, and Media (CHDCM) seeks to improve the human condition by collaborating across distinct fields that uniquely complement one another. Expression underpins all facets of the new College's portfolio—media as a form of education and artistic expression; teaching and learning as modes of creative expression; self-expression as a vehicle of social agency.
These are the kinds of CHDCM-prepared leaders who will use their knowledge and experience to create positive change in their communities and beyond:
A teacher grounded in interactive media (video games and virtual reality programs) who can enhance classroom experiences;
A school counselor trained in the performing arts who can foster deeper connections with students;
A journalist trained in sound production and engineering with the ability to excel as a multimedia storyteller; and
An artist trained in trauma therapy.
"We have educators partnering with designers, counselors partnering with performance artists, and journalists partnering with them all – to create innovative courses and unique programs," said Associate Professor Catherine H. Zizik, Chair of the Department of Communication, Media and the Arts. "One of our primary goals is to provide our graduates the ability to differentiate themselves within the marketplace as well as the marketplace of ideas – and prepare them for a multitude of career pathways."
CHDCM graduates will be prepared to practice in a multi-media world, thanks to cutting-edge tools and unparalleled studio-based learning opportunities – including WSOU 89.5FM, a Marconi award-winning "best Non-Commercial Radio Station," the recently upgraded 4k television studio, the Center for Sports Media, and Institute for Communication and Religion.
As part of the first Adobe Creative Campus in New Jersey, Seton Hall's CHDCM will train students in tools and technologies that make them more nimble, relevant and digitally savvy communicators.
Associate Professor Randall F. Clemens, Chair of the Department of Education Leadership, Management and Policy, said, "The College builds on the rich history of arts, education, and communication at Seton Hall. Each of us, across the university, have focused on excellence in teaching and learning and the preparation of students as servant leaders. That ethos informed the creation of CHDCM. We now have the opportunity to reimagine connections across disciplines, to meet the mission of Seton Hall, to be bold and change the world."
In the coming weeks, the University will announce the appointment of the founding dean of CHDCM. "An extensive search process yielded a number of outstanding candidates," said Passerini. "All of whom are excited by the prospect of leading this new and vital home for interdisciplinary learning."
For more information about the College of Human Development, Culture, and Media, please visit the College's website.
Categories: Arts and Culture, Campus Life, Education