Education Leadership Professor Speaks at the U.S. Capitol
Wednesday, April 12th, 2023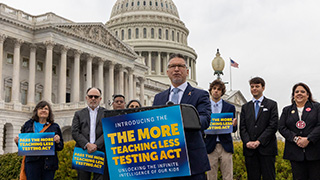 Professor Tienken speaking at the U.S. Capitol.
Professor Christopher Tienken, Associate Professor of Education Leadership, Management, and Policy was an invited speaker at the United States Capitol in support of the More Teaching, Less Testing Act. The bill was introduced on March 23, 2023 by U.S. Representative Jamaal Bowman from New York's 16th Congressional District.
Representative Bowman, a former school principal, contacted Tienken in early 2022 for research about standardized testing in K-12 public schools. The Representative had read one of Tienken's books and several of his articles on the topic and reached out for input. Tienken's 2017 study on predicting standardized test scores at the school level using community family demographic factors is featured in the bill.
The More Teaching, Less Testing Act seeks to reduce the amount of standardized testing in K-12 public schools. The United States mandates more standardized tests of academic achievement than any other democratic country in the G20 group of nations. Currently, all students in grades 3-8 and at least once in high school, must take yearly standardized tests in mathematics, and English language arts. In addition, students must be tested in science once during grades 3-5 and again in middle school. Research suggests that frequent large-scale standardized testing narrows the curriculum and reduces the amount of instructional time. Tienken's own research has demonstrated that test results at the school and district levels can be predicted by using demographic factors outside the influence of the school, calling into question the validity of the results to make important decisions about student learning and the effectiveness of instruction.
The bill seeks to reduce the overall testing burden by limiting the mandated testing to one time during grades 3-5, 6-8, and 9-12. The bill also allows states to use representative sampling or matrix sampling so that all students do not have to be tested all of the time. The National Assessment of Education Progress (NAEP) and the Programme for International Student Assessment (PISA) both use representative sampling.
The bill provides increased flexibility for states to design state testing systems, quadruples the current amount for the federal Title I program to 66-billion dollars to correct the ongoing underfunding of public schools, and it prohibits the use of standardized tests as the deciding factor to punish students and teachers through mechanisms such as large scale student retention in grade policies, high school graduation decisions, teacher evaluations, and school rating schemes.
Categories: Education