Beyond the Classroom: Museum Internships Enrich Graduate Students' Expertise
Thursday, September 28th, 2023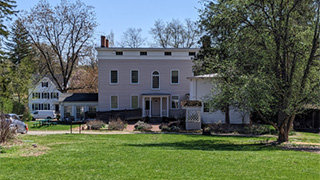 Montclair History Center
This past summer, five Museum Professions graduate students in the College of Human Development, Culture, and Media embarked on internships at various institutions around the United States. Kelly Martin, Laila Melhem, Sutherlyn Nichols, Arielle Stephens, and Ethan Wojciechowski each immersed themselves in unique roles, enhancing their expertise and understanding of the dynamic museum landscape.
Kelly Martin worked as an all-around museum intern at Pottsgrove Manor in Pottstown, Pennsylvania. "Interning at Pottsgrove Manor was a truly amazing experience. All the staff were incredibly nice and very clearly dedicated to helping me learn the skills I need to advance my career," she said. "Working in a small historic house museum gave me the opportunity to experience nearly all aspects of the field — from handling objects to giving tours, complete with hands-on training and plenty of one-on-one time with staff." She reflected, "I feel well prepared and confident going forward, and I know I picked the right career path for me."
Laila Melhem worked as an education intern at the Morris Museum's Spark!Lab in Morristown, New Jersey. "Interning at the Morris Museum was a great introduction into the real world of museums. I was encouraged to apply as an intern after learning other graduate students had worked there; plus, museum education beyond the classroom was very important to me. Learning from museum professionals in the field was a great addition to what I've learned so far in class."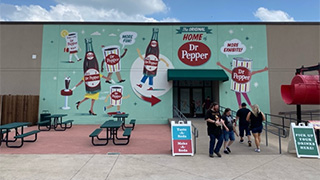 Front of the Dr Pepper Museum in Waco, Texas
Sutherlyn Nichols worked as an exhibits intern at the Dr Pepper Museum in Waco, Texas. "I worked alongside the associate director in researching information for the upcoming fall exhibition based on the architecture of its original 1906 building, which will be one of their long-term exhibitions," she said. "It was fascinating and really rewarding working with primary research alongside the museum's collection in order to design an exhibition that the museum could use."
Arielle Stephens and Ethan Wojciechowski both interned at the Montclair History Center, in Montclair, New Jersey. Stephens worked as a collections intern while Wojciechowski worked as a staff intern.
Wojciechowski remarked, "My time there taught me a lot about what it takes, and what it means, to be a museum professional. I had the opportunity to shadow and learn from the director Angelica Diggs, the head of collections and the curator Erin Benz, and the social media manager Natalie Fontana." He continued, "I learned that at smaller institutions you need to be able to adapt to situations outside your area of expertise and need to be willing to take on more work than you would expect. I enjoyed my time there, not only because it was a pleasure to work with everyone there, but also because it prepared me for a possible career in museums."
Stephens echoed Wojciechowski's sentiment. "Interning at Montclair History Center was a great learning experience. It was interesting to see how a small museum operates behind the scenes and to be able to implement all the things I've learned in class into practice. Erin Benz, the collections manager at MHC and graduate of the Museum Professions program at Seton Hall, is a very knowledgeable and helpful advisor. She taught me so much!"
Seton Hall's College of Human Development, Culture, and Media activates the synergies of communication, education, and media to equip the change makers of tomorrow with cutting-edge skills that drive social innovation. Through our interdisciplinary approach to learning, our graduate programs embrace today's digital culture while training students to lead and solve pressing problems in their chosen field as well as society. Graduates are prepared to practice in a multi-media world – whether that be as a multi-media communicator, teacher, counselor, psychologist, school or law enforcement leader. Visit here for more information on our museum professions program.
Categories: Arts and Culture