Why Anne Hewitt predicts health care is heading home
Monday, February 6th, 2023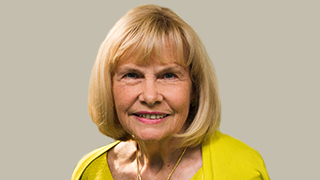 Population Health Management: this term and its meaning feel familiar and crucial, now that society has learned to live amidst a global pandemic that has disproportionately impacted some populations more than others.
"This concept of population health management has become the way forward for the health sector — it's become mainstream," says Anne Hewitt, an expert and pioneer in the field. "But this is a relatively new idea that has emerged over time."
Population health management combines tenets and practices from public, global, and community health to enable hospitals and healthcare systems to tailor treatment plans, patient resources, and preventative measures to meet the needs of diverse populations of patients.
It's such a new area of focus, that a comprehensive graduate-level textbook on population health management didn't exist until recently. To address that deficiency, Hewitt, professor and acting chair of Interprofessional Health Sciences and Health Administration in the School of Health and Medical Sciences and director of the Seton Center for Community and Population Health, wrote one with graduate students in mind. The volume, Population Health Management: Strategies, Tools, Applications, and Outcomes, was published last year by Springer.
Her book already has received a Five-Stars Award from Doody's Review Service, which reviews medical books to help medical libraries and academic institutions with their purchasing decisions.
"Historically, we had to teach population health courses by grabbing chapters from a bevy of different textbooks spanning epidemiology, public health, community-based health, finance for value over volume," Hewett says. "There wasn't any one book that had it all."
When she joined Seton Hall's faculty in 2000, most graduate programs for future healthcare leaders focused on basic health administration courses that prepared students to manage hospitals, clinics, and government health agencies. At Seton Hall, Hewitt quickly started adding coursework for master's in health administration students that put a strong spotlight on patients, communities and social determinants of health.
Around 2010, as the Affordable Care Act (ACA) unlocked new technology and treasure troves of data about the health of sub-populations across America, Hewitt developed new coursework to align to community issues, population management and public health.
"The technology that the healthcare sector gained from the ACA created a brand new way for people in the U.S. to receive care — allowing clinicians to target treatments and preventative care plans for people based on their unique environment and health needs, moving away from the traditional one-size-fits-all approach," she says.
While public health initiatives typically take a safety-net approach to care, Hewitt explains, population health takes the mindset that health is holistic and dynamic, putting lifestyle, family behaviors and histories – as well as the environment and access to resources in a person's neighborhood – at the forefront of care. This multifaceted, patient-centered approach guides interdisciplinary teams of Seton Hall faculty and graduate students in coursework and research on how to ensure disease prevention, diagnosis, and treatment does not only happen from "bench to bedside" (in the lab and in the clinic) but also in the homes, communities, schools, and workplaces.
"Patient outcomes matter and need to be part of the business strategy for healthcare service providers," Hewitt says.
Policies are also incentivizing a patient-centered approach. "Nowadays, insurance companies might decide not to reimburse a hospital for care if a patient needs to be re-admitted within 30 days for the same health issue," she says. "It forces clinicians to think about social determinants of health and be proactive in addressing them. Electronic medical records used to be chock full of only clinical data. Now there are complete patient profiles with information about their lifestyles."
Hewitt says those records include information like: Does the patient have access to a pharmacy? Do you have a safe place to exercise? "That's what patient-tailored health management looks like," she says.
For graduate students in the health administration program, Hewitt says one of the core goals is to help future leaders develop skills to work on large, complex teams. Most students in the program have a personal connection to health care — often a family member that's been treated through a serious illness.
"They want to give back," she explains. "That's why they're pursuing a career in health management. I've also had a lot of students who were clinicians, but figured out that health management provides tools to help so many more people."
Health administration and population health management are also gaining popularity in the wake of the pandemic, which brought the importance of agile leadership into clear view. "Healthcare leaders needed to fail fast and keep going; that's what COVID taught them," she says. "Very few CEOs or COOs had ever been told they had 24 hours to turn a cafeteria into a medical unit until the pandemic hit. Suddenly, parking garages were being converted to vaccine distributions centers. To win the war, hospital administrators and managers need to be agile, and to consider the best way to provide people with the care they needed in their neighborhood."
The trend of health care moving away from hospitals and into the community will only continue, Hewitt predicts. "There were an enormous number of babies born at home during the pandemic, and people found that they liked that experience," she says. "I think we're going to see a 100-year flip, reverting to a care style where the doctor comes to your home. Things are changing so fast … and that's attracting a lot of graduate students to come back to school mid-career to adapt their skills."
Categories: Health and Medicine