New Population Health Management Book by SHMS Faculty Receives Top Reviews
Thursday, March 24th, 2022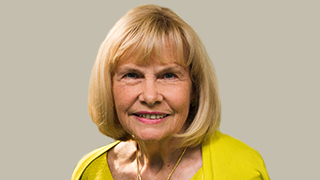 Anne Hewitt, Ph.D., Professor and Acting Chair of the Department of Interprofessional Health Sciences and Health Administration, announced that the recently published Population Health Management: Strategies, Tools, Applications and Outcomes has been granted the Doody's Review Service 5-Stars Award. Doody's is a medical book review service designed to assist medical libraries and institutions with their purchasing decisions. One reviewer called the book "outstanding," adding, "…I would highly recommend it for any professional or faculty in a current public health role, and absolutely for a student in the fields of public health, nursing, health administration, health education, medicine, and information technology."
Today, population health management (PMH) is understood as a complex, interprofessional solution for the unmet health needs of diverse populations. All health professions now require familiarity with this new approach. This was not always the case. As Hewitt shares, to meet the needs of her MHA students over the years, she would merge different textbook chapters, search for up-to-date supplemental information, and design materials to document the unparalleled health sector transformation now known as PMH. She describes this in the book's preface: "Opportunities often arrive in the form of new challenges or final chances to fulfill a special goal, and we only need to reflect on the last three years of the COVID-19 pandemic to recognize the valuable role and contributions of Population Health to ensure the health all Americans."
Hewitt selected two health practitioner-experts to serve as co-editors of the text—Julie Mascari, M.H.A. '04, Regional President of Humana and an adjunct MHA faculty, and Stephen Wagner, Ph.D., FACHE, LFACMPE. A well-known book author with more than 35 years of experience as a health administrator, Wagner is the MHA Executive-in-Residence, assistant professor and a fellow of the American College of Healthcare Executives.
Wagner shared, "Population health management has become an essential skill set for healthcare leaders and managers. We can no longer think of healthcare delivery as only the care of an individual patient." Mascari also emphasized the importance of the topic: "Populations, Populations, Populations! Without identifying the at-risk populations and tailoring the care coordination appropriately, positive health care outcomes won't occur."
The text covers healthcare delivery topics such as population risk segmentation, value-based payment systems, accountable care organizations and virtual care (telehealth) options. It also includes practical skills-building tools, case studies, real-world challenges, expert interviews and learning experiences. More than a dozen expert university faculty and practitioner authors from across the country contributed to this work.
The graduate text also features a detailed case study of New Jersey healthcare organizations' initiatives, called, "A Case Study on Population Health Addressing Health Equity During a Crisis: Flattening the Curve of Hispanics with COVID-19 in Somerset County from Somerset Medical Center," and a contribution from Summit Health, titled, "Implementing a Population Health Data Analytics Platform: A Multispecialty Group Case Study."
The Department of Interprofessional Health Sciences and Health Administration, of which Hewitt currently serves as Interim Chair, includes the Ph.D. in Health Sciences and the Master of Healthcare Administration programs as well as the newly approved Bachelor of Science in Interprofessional Health Sciences program scheduled to launch in Fall 2022. Hewitt joined Seton Hall University in 2000 and is founding director of the Elizabeth A. Seton Institute for Community and Population Health. She completed her sabbatical as a consultant for the New Jersey Department of Health and has received the Distinguished Service Award from the New Jersey American College of Healthcare Executives.
Hewitt, Mascari, and Wagner will be presenting a national webinar sponsored by Springer Publishing to introduce the book on April 21, 2022. The title is: Population Health Innovations Post Covid-19: What's New for our Students? For more information or to join the webinar, please click here.
Categories: Health and Medicine