University Hosts President of UN General Assembly
About Miroslav Lajčák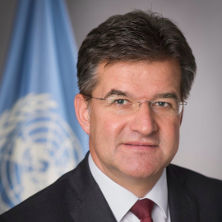 As President of the UN General Assembly (UNGA) during its 72nd Session, Lajčák leads representatives of 193-member countries in policy-making discussions on critical international issues related to peace and security, development and human rights. During Lajčák's 12-month term, the UNGA will be addressing the global education crisis, which has left 264 million children without an opportunity to attend school. Lajčák wants to see the UN evolve more quickly toward reform so that it is better able to respond to this and other global challenges.
Speaking before a meeting of the Security Council recently he warned that by not addressing the need for reform of the world's largest intergovernmental organization, "the continued relevance and, frankly the very survival of the United Nations is at stake."
The UN was created for people. Its job is to help people who are striving for peace and a decent life, on a sustainable planet. It is one of the tasks of the General Assembly to make sure that their voices can still be heard. -- Miroslav Lajčák, President, UN General Assembly
Andrea Bartoli, dean of the School of Diplomacy and International Relations is proud to welcome Lajčák and his new style of leadership as an example for students. "It is an honor," says Bartoli, "that Mr. Lajčák has accepted our invitation to be the next World Leaders Forum speaker. As president of the General Assembly, Mr. Lajčák has become a strong advocate for change at the UN, seeking to make the organization more relevant, responsive, and effective as it strives to meet the needs of the people of this planet."
About the World Leaders Forum
Lajčák is indeed the latest in long line for distinguished visitors that the University has hosted as part of the World Leaders Forum. Established by the School of Diplomacy in 1999, the series has presented Nobel Peace Prize laureates, former heads of state, public officials and political leaders, journalists and labor leaders, business executives and philanthropists, ambassadors and diplomats. Among the roster of notable speakers are U.S. Ambassador to the United Nations, Samantha Power, U.S. National Security Advisor, Susan Rice, Liberian peace activist and Nobel Prize Laureate, Leymah Gbowee, UN Secretary-General Ban Ki-moon, former Prime Minister of Great Britain and Northern Ireland Tony Blair, UN Secretary-General Kofi Annan, former Soviet President Mikhail Gorbachev, Iranian President Mohammad Khatami, former Israeli Prime Minister Shimon Peres, and former President of Poland Lech Walesa.
These leaders have addressed complex and controversial issues such as the roots of terrorism, the role of politics and religion in cross-cultural dialogue, climate change and the environment, the changing role of power and sovereignty in international organizations, and the inequities associated with global debt. In each case, speakers have encouraged dialogue in search of new avenues for building peace.