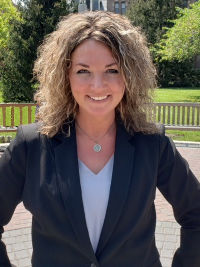 Prior to joining the Seton Hall School of Diplomacy community, Vera studied at North Kazakhstan State University, Ball State University, as well as Purdue University, gaining qualifications to facilitate courses in English and German languages in addition to teaching children with mild to severe disabilities. She has taken her compassionate attitude and applied it to her work in Diplomacy; researching critical topics in the human rights sector including treaties regarding persons with disabilities, refugees with disabilities, and older persons in general. Her passion for international regulation and cooperation on transnational issues led to additional opportunities to actively participate at the United Nations (UN) as both a Rapporteur for the International Dialogues on the Sustainable Development Goals and Youth Representative for the School of Diplomacy. "People with disabilities have always had a special place in my heart. The more I learned about the barriers and human rights violations persons with disabilities experience, the more I wanted to get involved and be a part of the process to change it."
As a UN Youth Representative, she was issued a grounds pass to attend UN briefings, events, and workshops. Vera reported on these experiences though the Center's blog that is used by Diplomacy students and others to gain knowledge about the UN's activities. Her time in this position provided her with a clear example of the importance of youth participation in international organizations. On campus, she supported the Center for UN and Global Governance Studies as Research Assistant. She designed and distributed communications for the Center while also working to expand its relationship with the UN community of Non-governmental organizations.
One of her largest responsibilities in this role was the coordination of the School's Sustainable Development Challenge. This annual scholarship competition provides high school and undergraduate students as well as recent graduates the opportunity to present their original ideas to address one of the seventeen UN Sustainable Development Goals. Vera worked intimately with Center Director Father Brian Muzas while developing event planning and logistical skills to coordinate this event. From communicating with dedicated applicants from around the world about their proposals to organizing the Finalists' Day in which presenters shared their potentially world-changing ideas with the Diplomacy community. "What I most enjoyed was seeing the Sustainable Development Goals serve as a framework for addressing global issues at the local, community level. I was inspired to see first-hand the powerful role that youth can play in implementing the SDGs."
Drawing on her both her UN experiences and classroom knowledge, Vera also expressed her informed opinion on the global community's responsibility to refugees, to those with disabilities, and questions of UN funding among others in twenty-three articles published for The EastWest Institute's Nextgen blog, PassBlue, and the International Affairs Review, and more. She applied her writing prowess in the world of non-governmental organizations as an intern for the Europe and Central Asia Division of Human Rights Watch in New York City. She assisted in the composition of statements for refugees, researched the challenges faced by Russian citizens with disabilities due to various pieces of legislation in the country, and drafted an organizational letter to the UN Committee on Convention on the Rights of Persons with Disabilities from the Human Rights Watch in response to Russia's submission of their first CRPD report. "My internship with the Human Rights Watch helped me to directly connect my previous experience working with persons with disabilities to the field of international relations and diplomacy. It showed me ways to get engaged in promoting human rights of persons with disabilities across the international boundaries. In addition, it showed me that anyone who is passionate about a cause can make a difference through advocacy." In her work with Human Rights Watch, Vera effectively advocated for those she once taught, connecting her past passions with her future career global path.
Seton Hall Career Highlights
Research Assistant, Center for UN and Global Governance Studies
UN Youth Representative for the School of Diplomacy and International Relations
United Nations Rapporteur for the International Dialogues on the Sustainable Development Goals
Participant, Seton Hall Leadership Fellowship Program
Recipient, Experiential Education Award
Member, Sigma Iota Rho National Honor Society for International Affairs
Member, National Committee on American Foreign Policy
Member, Young Professional in Foreign Policy Organization