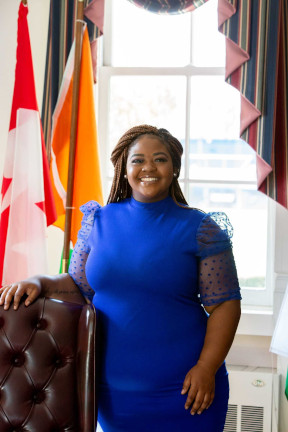 Tamia Wallace, School of Diplomacy M.A. Class of 2021 graduate, specializing in global negotiation and conflict management with a regional focus on the Middle East, is starting her career with a coveted position at the Department of Defense after completing the School's National Security Fellowship (NSF) program. The NSF research team completed an assignment from the Department of Defense this year on "Reimagining Counterterrorism in the Age of Great Power Competition: Optimizing U.S. Programs and Strategic Partnerships." The team conducted research, created an operational paper and presented their findings and recommendations to not only the Pentagon, but also the US State Department, National Security Council, USAID, and other agencies. She said of the experience, "I never imagined that I would be presenting research and recommendations to the National Security Council at 22 years old, but life is full of surprises."
Tamia has had international relations in her blood since birth. She was born in Würzburg, Germany to a U.S. military mom. Her family moved around a bit with the military before settling in Virginia, where she eventually pursued undergraduate studies at Virginia Commonwealth University in Richmond. She completed two BA degrees in 2019, one in international relations with a minor in psychology and the other in human security with a minor in African-American studies. She also earned a certificate in Leadership Studies.
During her senior year, she studied abroad in Sharjah, UAE. The opportunity to live, study, and work abroad in such a diverse and unique location, coupled with the opportunity to learn a new language and meet so many different people was a life changing experience for her. That same year, she submitted a paper to a national research conference. When she received an invitation to present, she was shocked and elated. That was the moment she first considered research as a career.
During her time at Seton Hall, Tamia received a Research Assistant Fellowship, which not only assisted with tuition, but allowed her to contribute to faculty research and events for three professors with research interests including global health, peace and conflict studies, and economics. She indicated that the most valuable parts of the experience were the mentorship she received and the ability to explore different areas of research. She also interned for the U.S. Department of State, working as a virtual intern for the Bureau of Oceans and International Environmental and Scientific Affairs. She spent the summer conducting research and creating a presentation for an interagency working group on violence against environmental defenders in India and South Africa. This internship solidified her decision to pursue a career in research and analysis on human rights issues.
Tamia's drive to servant leadership through a career impacting human rights internationally is a natural extension of her approach to all parts of her life. The 5th child of 6, she says her strongest motivators are her family. To share her view on the importance of community, she sites ubuntu, the famed African philosophy meaning "I am because we are." She values loyalty, communication, authenticity and community above all else.
These values drive Tamia's desire to see justice and change. She says, "We're only here for a limited amount of time and I want to make sure the world is a better place for the generations who come after me…Being a member of the School of Diplomacy's Diversity, Equity, Inclusion and Justice initiative and being able to use my voice and experiences to fight for change, and seeing some of those changes being implemented is something that I consider an accomplishment."
Tamia helped found and served as the Vice President of the Black Diplomacy Student Organization (BDSO). She assisted in creating a number of programs to support Black Diplomacy students and worked to advocate for the concerns of these students. BDSO was awarded New Student Organization of the Year by the University.
She credits the hard work and commitment of her community of fellow E-board members as well as all of the students and alumni who put in work for the organization, even during the summer. "My time at Seton Hall has certainly been an experience in learning and growth. Academically, personally, and professionally, I'm a different person than I was when I started my program 2 years ago. I've gained a lot of experience and had a number of encounters with both students and professionals who have really shaped who I am as a person, and for that I couldn't be more grateful."
In addition to her diversity work, Tamia served the School of Diplomacy as the Director of International Affairs for the Graduate Diplomacy Council. In this role, she helped create programs for the graduate student body, and acted as a liaison between graduate students and the School of Diplomacy. She was also inducted into Sigma Iota Rho, the international relations honors society.
Her advice to students, "Take advantage of the opportunities that present themselves to you! The chance to learn something new or connect with new people isn't something that you should take for granted, and you may gain something really valuable from taking the chance. I was able not only to have some incredible professional opportunities during my program, but I was also able to meet some amazing people who I am incredibly proud to call my friends and sisters!"
Seton Hall Career Highlights:
Vice President, Black Diplomacy Student Organization
Director of International Affairs, Graduate Diplomacy Council
National Security Fellow, Department of Defense
Intern, U.S. Department of State U.S. Department of State,

Bureau of Oceans and International Environmental and Scientific Affairs

Research Assistant Fellow

Concentration in global health, peace and conflict studies, and economics