What Great Minds Can Do: Quinn Ginsberg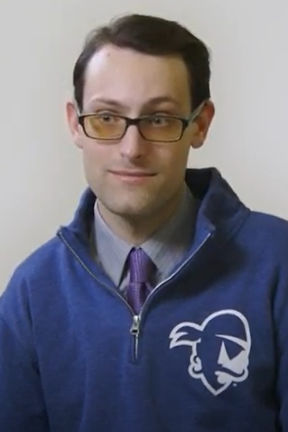 New York native Quinn Ginsberg has always been driven by a desire to assist in areas of critical need. Ginsberg is an M.A candidate in Diplomacy and International Relations, specializing in International Security and Global Negotiations and Conflict Management. Since joining the program in 2019, Ginsberg has taken on opportunities that have allowed him to cultivate both practice and pedagogy, serving as a Graduate Fellow, a Graduate Assistant, and an Associate Editor for the Journal of Diplomacy and International Relations.
Ginsberg brings a deep professional background that ultimately pushed him towards this field, having previously worked and interned for the United Nations Association, The Eurasia Center and Eurasian Business Coalition, and the Hudson Institute. Through these experiences, he built an understanding of how states negotiate, which made him eager to contribute on a global scale.
"I have always valued public service and have a deep desire to learn more about the world. With this program I saw an opportunity to serve and to develop a more nuanced understanding of the world at large."
This desire to serve others has been on full display, as he was selected to work under the tutelage of former Swiss Ambassador Therese Adam. Affiliated with the Swiss Ministry of Foreign Affairs for nearly three decades, Ambassador Adam is also a professor of practice at the School of Diplomacy. Part of Ginsberg work under Ambassador Adam included writing assignments, as well as leading and planning exercises for undergraduate students.
"I remember most fondly my work with the undergraduate students. On one occasion, I asked the students questions about the Harvard Principles of Negotiations (Principled Negotiations). I found it gratifying to develop challenging Socratic questions to push the student, into applying the new material and witnessing noticeable improvement."
Ginsberg not only established himself as an excellent student, but also a talented writer. During his time at Seton Hall, he has written for the School's Journal of Diplomacy on topics ranging from Israeli peace, the plight of the Mizrahi, and foreign intervention in Lebanon.
"Prior to joining the School of Diplomacy, I had always been interested in conflict, how it is instigated and how it can be transformed. The faculty's insights from their own practical experiences opened me up to new ways of conceptualizing and understanding conflict, all of which I believe will be informative in my future fields of interest."
Seton Hall Career Highlights
Associate Editor, The Journal of Diplomacy and International Relations
Graduate Assistant, The School of Diplomacy
Graduate Fellow, The School of Diplomacy
Research Assistant, Ambassador Therese Adam
Intern, United Nations Association of the USA
Research Associate, The Eurasia Center
Research Associate, Eurasian Business Coalition
Research Assistant, Hudson Institute