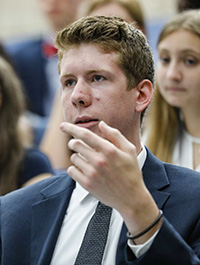 "Within leadership we are exposed to different specializations, and being a leader is being able to take all of these specializations and experiences that we've had and use them to build towards something greater."
Joseph MacKenna is a Class of 2022 student in the School of Diplomacy and International Relations and in the Buccino Leadership Institute. Joseph grew up in Kings Park Long Island, New York, where he attended Kings Park public high school.
Joseph was extremely active in his high school, participating in over eight clubs and serving as an officer in six of those. Through these initiatives, he has been responsible for organizing many events. After the Parkland school shooting, Joseph helped organize a debate at his high school with his Congressman and Lieutenant Governor that discussed the issues of gun control. He also was a leader on the Autism Speaks Youth Council for Long Island and a member of a district-wide decision-making committee for his school district.
Joseph's involvement in school politics and clubs throughout high school helped him become more outgoing. One of his proudest projects was his position as an executive on the board of an international organization known as Next Generation Politics. The purpose of the organization was to get youth more involved in politics. Joseph had the opportunity to facilitate communication with other countries through this program, and it served as a catalyst for Joseph's leadership journey.
Joseph looked at a variety of schools before selecting Seton Hall. During the application process, Joseph searched for schools near a large city. As a diplomacy major, location near a big city was an important factor in choosing his college. Along with its unique location, Seton Hall has an entire school dedicated to Diplomacy. Seton Hall's Diplomacy program was more developed and catered to Joseph's needs in comparison to other schools.
In addition to being accepted into the Diplomacy Program, Joseph was accepted into the Buccino Leadership Program. Joseph stated that having professional development and opportunities through the program would help him have "better interpersonal relations as a diplomat and teach him how to interact with different types of people." Joseph hopes the leadership program will improve his social and personable skills.
Moving forward, Joseph is considering minoring in legal studies and has a double major with the Spanish and Russian languages. Fascinated by different cultures, Joseph desires to study abroad to broaden his perspectives. He hopes to travel a lot in his time at Seton Hall, adding that he "would rather live poor and see everything than be rich and live in one place."
Seton Hall Career Highlights
Buccino Leadership Institute
Member, Seton Hall Model United Nations Team
Anticipated travel to Thailand for Model United Nations Conference