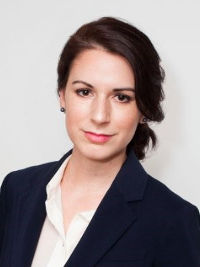 After receiving her Bachelor's degree in religious studies and photojournalism, Emily spent a year in Uganda applying her unique combination of knowledge. "While religious studies allowed me to gain a stronger understanding of history and culture," says Emily, "photojournalism exposed me to journalistic trends and global issues." In Uganda, she took an interest in local news, governance, and regional humanitarian issues that she had little exposure to at home, capturing them through pictures for a variety of NGOs and local artists.
After spending a year in Uganda, Emily felt a growing desire to positively impact the humanitarian issues she had witnessed; a desire that drove her to pursue her Master's degree in Diplomacy. She zeroed in on Seton Hall because of its extensive academic and professional connections with the United Nations, as well as its location just outside New York City. For Emily, "advancing my education at a university in Washington, D.C. seemed like good preparation for a domestic political career, whereas pursuing a program in the New York metropolitan area would give me access to internship and employment opportunities in the private sector, nongovernmental and international organizations as well."
Emily chose to lead from her strengths, leaning on her knowledge of the publication process to manage the School's semi-annual academic open access journal. Emily joined the team as a Senior Editor and rose to the role of Editor-in-Chief. Describing the work as, "challenging, but rewarding," Emily was proud to not only finalize two volumes under her tenure as Editor-in-Chief, but prepare two more for publication following her graduation.
Before graduation, she completed an editorial internship with the Carnegie Council, a historic institution that strives to be the "voice for ethics" in international relations. Her work earned her a post-graduate position as a Fellow for the Council, focusing on its flagship peer-reviewed journal, Ethics and International Affairs, where she was proud to print her own book review after it was selected for publication, completing her transformation from a consumer of knowledge, to the producer of knowledge.
Seton Hall Career Highlights
Graduate Assistant for Marketing and Communications, School of Diplomacy
Senior Editor of the Journal of Diplomacy
Editor-in-Chief of the Journal of Diplomacy
Participant in the Basque Country International Study Seminar
Editorial Intern at the Carnegie Council for Ethics in International Affairs
Editorial Fellow at the Carnegie Council for Ethics in International Affairs