Egdanis Sierra Torres, Lieutenant and Public Affairs Officer, U.S. Navy
Penuelas, Puerto Rico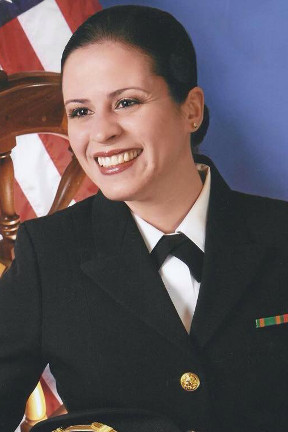 Decorated Lieutenant, Egdanis Sierra Torres, born and raised in Puerto Rico, first came to Seton Hall as an undergraduate student, after learning about the University from an exchange student at her high school. She recalls anxiously arriving in New Jersey alone, with $200 in her bank account and no prior experience with snow boots or winter coats. But as a student here, she says her nerves were quickly calmed. "I wasn't a number," Egdanis recalls. "Seton Hall quickly became my family away from home in large part because of its community-oriented environment."
After completing her bachelor's degree, serving as a public school educator for nearly twenty years, and reporting the news for the Telemundo Network, Egdanis felt called to do more for others. "Life is so much greater than yourself," she says, "In the end, it's not about you. It's about what you can do for other people."
This call led her to join the United States Navy. "It's not about Egdanis anymore," she reflects, "I now represent the United States Navy, and I'm proud to do that as a Latina, and as a female Lieutenant." Egdanis' latest career as a Public Relations Officer has become her life's biggest passion. As a Public Relations officer, she is responsible for curating all communications and information that is released within the Navy and to the general public.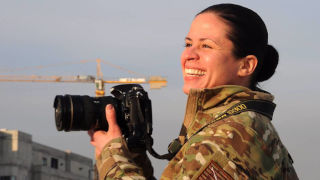 Photo by U.S. Air Force Tech. Sgt. Robert Trujillo
Her change of profession has ignited a growing interest in diplomacy and international relations. "I realized one day that I had the firsthand experience, but not the knowledge," Egdanis said. "If I was going to continue to do my job well, I knew that I needed to learn more."
When considering graduate programs, Egdanis was surprised and excited by the flexibility of the School of Diplomacy's Executive M.S. degree coursework, and grateful that it would allow her to "come home" to Seton Hall. "Since my job takes me around the world at the drop of a hat," she says, "I needed to find a program that not only aligned with my interests but could travel with me. Seton Hall's Executive M.S. in International Affairs offered the total package for me."
Since the M.S. program is available online, on campus, and in hybrid format, Egdanis was able to take classes on campus leading up to her most recent deployment, and is continuing the program through online coursework. Throughout her experience, she has found that "a defining feature of the School is the diversity of its students. They come from across the globe and all walks of life, and their perspectives and experiences challenge my thinking on a daily basis," she says.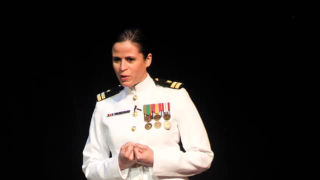 Egdanis raves about the applicability of her coursework to the field. "I'm seeing exactly what I'm reading about, and I can talk about that in our online class discussions." During her time in Afghanistan, Egdanis was completing a course on Justice, Truth, and Reconciliation, which covered a wide range of issues, including revenge, restorative justice, and the role of women during conflict. Her experiences in the field, working with anti-corruption justice centers and Afghan attorneys, and even in negotiations between the Afghan president and the Afghan army, directly mirrored what she was reading in class.
She believes, "It is essential to understand how relationships function and change after a conflict," and in her line of work, post-conflict relationship building is necessary for the good of all. She hopes to continue to apply her past experience as an educator to help encourage better peacebuilding strategies everywhere she goes. Her work will soon take her to Berlin, Germany where she plans on taking this goal, and all that she's learned from the School of Diplomacy, and putting it into practice.
Professional Highlights:
Specialization in Post-Conflict State Reconstruction and Sustainability
Director of Public Affairs, Resolute Support Headquarters in Kabul, Afghanistan, U.S. Navy
Served as a Naval Officer in the Pentagon, Hawaii, Japan, and South Korea
Attended Defense Information School in Fort George G. Meade, Maryland and the Naval War College in Newport, Rhode Island
Gave a TedxTalk titled "The Limitlessness of Hope"