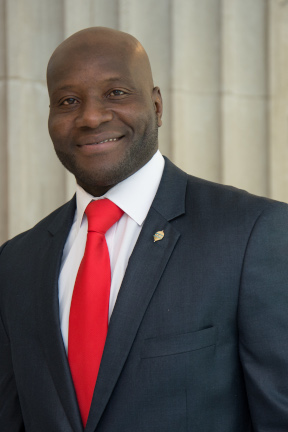 Written by: David Marina
Dosso Kassimou, M.A. /M.P.A. '08, is an embodiment of Seton Hall's motto: What great minds can do. What hasn't Kassimou done since graduating from Seton Hall. His professional endeavors have seen him challenge systems of exclusivity in hopes of creating sustainable neighborhood and global development programs and spaces. He was appointed by former Mayor Cory Booker to lead the Newark African Commission and unite the Diaspora community. Kassimou was the first African immigrant to run for Councilman-at-Large in the City of Newark. He was awarded The Black Excellence Award from the New Jersey Legislative Black Caucus, and is currently pursuing a Ph.D. in Public Affairs & Administration from Rutgers University.
Kassimou credits his time at Seton Hall for giving him the diplomatic skills to succeed. "Today, I am able to manage and negotiate real-life conflicts with skills and proficiency," he says. He was able to push through years of bureaucratic stalemate and clashing interests to spearhead the completion of ' Mulberry Commons', a World class park in the downtown Newark on behalf of Mayor Ras. J. Baraka's office.
Originally from Côte d'Ivoire, Kassimou's passion for human rights led him to establish Sandji Community Development Corporation, a non-profit working at the intersection of education, economics, and sports in rural areas in Africa. Sandji organizes annual peacebuilding soccer tournaments among the remote villages in the region in order to bring harmony between the population who are often divided by ethnic conflicts. Sandji also provides local women farmers with technical assistance and tangible development projects to improve their lives. A few years ago Sandji helped build a primary school in the region to fight against chronic illiteracy.
To add to his list of accomplishments, Kassimou was recently appointed by Sister-Cities International (SCI) to be State Representative for the State of New Jersey.
Sister Cities International is a non-profit organization dedicated to creating citizen diplomacy networks between the United States and international communities. Rooted in the Eisenhower administration, the organization mirrors much of the School of Diplomacy & International Relations ideals of cultural, educational, and business exchange. At SCI, Kassimou will develop a communication strategy to bridge the organization's mission with local stakeholders, including schools, businesses, and other non-profits in the New Jersey area. He will also engage local municipalities in New Jersey to become members of SCI; while helping to establish new sister cities relations between the cities in New Jersey and their counterparts around the World.
During his time as a Pirate, Kassimou was involved in various student organizations such as the Pi Alpha Alpha Honor Society and the African Student Association, where he served as president of both groups. After graduation, he has remained involved with Seton Hall University, serving as a member of the Buccino Leadership Institute Advisory Council and the School of Diplomacy & International Relations' Diversity, Equity, Inclusion, and Justice Initiative. A distinguished alumnus in every sense of the word, Kassimou is a recipient of the "Many Are One" award for alumni service. The university grants this prestigious award to notable alumni in recognition of their contributions to their field and their service to Seton Hall. Kassimou received the award in 2009 for his advocacy work and commitment to human rights in the United States and Africa.
Among his many achievements, Kassimou holds a special place for Seton Hall. "Attending the School of Diplomacy was the best decision in my life," he says. "I am extremely proud of the tools and techniques that I acquired from the School during my years of study." We congratulate Dosso for starting his work with the Sister Cities Initiative. We are proud to have his leadership at Seton Hall, in Newark, in the State of New Jersey and in communities globally.

Professional Highlights:
New Jersey's representative to Sister-Cities International (SCI)
Head of the Newark African Commission, appointed by then Mayor Cory Booker
Councilman-at-Large in the City of Newark
Founder, Sandji Community Development Corporation working at the intersection of education, economics, and sports in rural areas in Africa
Recipient of the Black Excellence Award from the New Jersey Legislative Black Caucus
Doctoral student in Public Affairs & Administration at Rutgers University
Seton Hall Highlights:
Member of the Buccino Leadership Institute Advisory Council
Member of School of Diplomacy & International Relations' Diversity, Equity, Inclusion, and Justice Initiative.
Recipient of the "Many Are One" award for alumni service in 2009
Member of the Pi Alpha Alpha Honor Society
President of the African Student Association