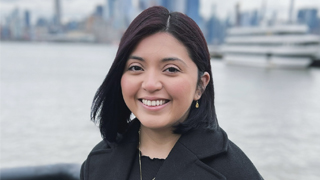 "As a first-generation Honduran American, I found my passion in studying the intersections of digital governance and diplomacy in developing countries."
Securing a fellowship can be daunting and time-consuming, often requiring students to demonstrate exceptional skills. Despite the challenges, Angie Orejuela has received not one, but two fellowships in a reasonably short amount of time.
Angie is a second-year graduate student at Seton Hall's School of Diplomacy and International Relations, specializing in Foreign Policy Analysis and International Economics and Development. As Deputy Editor-in-chief of the Journal of Diplomacy, her writing primarily showcases the interconnection between global affairs and digital technologies.
In October 2022, Angie started an internship at Digital Medusa, where she worked under Dr. Farzaneh Badiei, a renowned scholar with extensive experience in areas that align with her goals to merge digital governance with diplomacy. To extend her knowledge about the functionality of the internet and digital technologies, she has been an active fellowship hunter to ensure she gets as much relevant hands-on experience as possible alongside her International Relations studies. Former Project Management Consultant for the UN and Executive Director at the Internet Governance Project, Dr. Badiei introduced her to several fellowship opportunities.
Angie Orejuela is one of fifteen early career fellows partaking in a five-month program at the Internet Society. "As a fellow, I plan to use my passion and cultivated skills to assist in policy analysis, conduct advocacy work and make digital technologies available and safe for all." At the end of the fellowship, she will be presenting a research paper about ways to facilitate the integration of cashless systems into developing economies.
Moreover, Angie was recently named Internet Law and Policy Foundry Fellow. "It is a space for early career professionals to access seminars, publications, and networking opportunities to grow the internet Law and Policy ecosystem further." For two years, fellows participate in projects that embody the Foundry's core mission, such as the Policy Hackathon, Cyber Con, and the Tech Policy Grind podcast. The Policy Hackathon involves crafting innovative, viable, and stakeholder-oriented solutions to tackle internet governance issues.
She also works as an Inside Account Manager at SHI International Corp., where she contributes to highlighting Microsoft's needs for higher education. Angie Orejuela's access to these highly competitive fellowships is a supreme exhibition of her deep interest in the socioeconomic impact of new technologies through policy implementation. By expanding her horizon under the guidance of faculty at Seton Hall, she's undoubtedly inspiring students in the Pirates' sphere and beyond.
More information on these fellowship opportunities can be found here:
Seton Hall Highlights
Deputy Editor-in-chief of the Journal of Diplomacy
Research Assistant, Digital Medusa
Fellow, Internet Society
Fellow, Internet Law & Policy Foundry