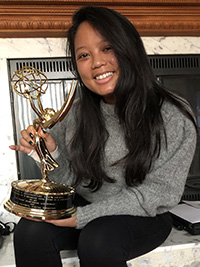 Alexa Valiente, B.S.'13, started college with an eye toward a career in journalism. As a student in the School of Diplomacy and International Relations she was immersed in current events, which became her passion. Valiente wrote for the School's newspaper, the Diplomatic Envoy, and went on to intern at top media outlets including Newsweek, the Daily Beast, and ABC News. After graduating, she joined the ABC News team as an associate producer and went on to win her first Emmy in 2018.
Valiente credits much of her professional success to her professors, friends and those who supported her as a college student. "I am a proud Seton Hall alumnus," she says. "I was taught by some of the best professors and many of my classmates are still my friends today." As a Diplomacy honors student minoring in Italian Studies, Valiente said she learned about networking by meeting other students and attending career-inspiring events such as the World Leaders Forum, where she was introduced to UN Secretary General, Ban Ki-moon. Meeting the UN Secretary General on campus in 2010 "was a life changing event," she said. It was an experience that gave Valiente an opportunity to practice networking, a skill she continues to use in her professional role today.
In 2017 she was promoted to producer, where she pitches, develops, writes and edits stories and videos for ABCNews.com and several shows including 20/20 and Nightline. Last year, Valiente was included in the Emmy nomination of three news stories produced for 20/20. She was part of the winning piece, 'Las Vegas: Heartbreak and Heroes,' which focused on the tragic concert shooting on October 1, 2017, which left 58 people dead. "This assignment really hit home," she said. "Beyond my work on digital, I was happy to be able to help by using my knowledge of the Tagalog language for translating one of the interviews in the story."
So how does she feel about winning an Emmy Award? "I'm still shocked that those words apply to me," Valiente said recently. After the statue arrived with her name on it, she wrote on LinkedIn: "I am so grateful and reminded of something we often forget: #neversaynever." "I'm proud and especially thankful to all the people in my life who helped me get to where I am today," she adds.
Valiente encourages other students to pursue the opportunities they really want, even if they seem a bit out of reach. "Intern as much as you can," she advises. "Many companies like to hire former interns and it's a great way to add experience to your resume and make contacts." Internships can be the place to find mentors and friends, and are often important sources of future opportunities, she says. "You never know what can happen." Valiente encourages students to start building a professional network early by meeting people and remembering their names, keeping in touch with them, and getting your name out there. "In my case, staying in touch with someone from my internship helped me get a job that led to where I am today."
Seton Hall Career Highlights
Majored in Diplomacy and International Relations with a minor in Italian Studies
Member of the Seton Hall United Nations Association
Writer for The Diplomatic Envoy
Interned with Newsweek, the Daily Beast and ABC News
Attended the World Leaders Forum event honoring UN Secretary General Ban Ki-moon