Board of Advisors: Colin Hart
Senior Vice President and International Affairs Lead, United States at FleishmanHillard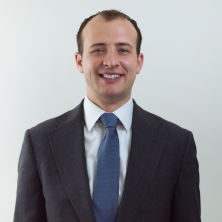 Colin M. Hart is the senior vice president and international affairs lead, US at FleishmanHillard, and brings over a decade of communications experience in managing complex national and global issues for multinational corporations, foreign governments, and high-profile international entities.
Before returning to FleishmanHillard for the second time, Mr. Hart served as a Senior Director of Corporate Communications at WeWork following the company's 2019 IPO attempt through the announcement of the SPAC merger in April 2021. In this role, he oversaw the global communications and public affairs teams, and was also the primary spokesperson on all legal, people, technology, and COVID-19 related issues. He was a key member of the COVID-19 coordination team that received the Better Together Award in February 2021 for company-wide collaboration in rolling out COVID policies and rapid issues response.
Ahead of his time at WeWork, Mr. Hart spent two years at FleishmanHillard in the Crisis Management practice where he supported clients on a wide range of complex global matters including climate change, US-China relations, economic development, women's rights, and corporate relations at the United Nations. As COVID-19 spread from China to Europe and then to the United States in early 2020, he counseled over 100 clients on their initial response to the global pandemic and worked with the firm's leadership to stand up and advise the Fleishman Hillard Global Coronavirus Task Force.
In addition, Mr. Hart previously served as the vice president of BLJ Worldwide, a strategic communications firm in New York. In this role, he worked with clients including non-governmental organizations, corporations, and governments to achieve a wide-range of communications objectives in the U.S. and abroad. He coordinated visits by heads of state and government to the United States, as well as advised on geopolitical issues for a broad spectrum of international clients, including the former head of the United Nations climate negotiations at COP 21 in Paris. Mr. Hart also represented several clients during the development of the United Nations Sustainable Development Goals in 2015.
Between postings at BLJ Worldwide, Mr. Hart spent nearly two years at Uber focused on projects related to business development, strategic partnerships, women's safety, and global reach initiatives. During his time at Uber, the company grew its operations from 35 cities to over 290 cities, and reached a valuation of over $41 billion.
Mr. Hart previously worked with the Business Council for the United Nations and the Global Nomads Group. He received his bachelor's degree in diplomacy and international relations from Seton Hall University, where he concentrated on international organizations and East Asian affairs. In 2018, he received the Seton Hall University Many Are One Alumni Service Award.
He is currently the president of the Seton Hall School of Diplomacy Alumni Association, serves on the Seton Hall President Advisory Group, and is a member of the National Committee on US-China Relations.