Congratulations Class of 2020: Greatness Awaits
Seton Hall's deans, professors and staff are brimming with pride for the historic Class of 2020.
---
Arts and Sciences, Diplomacy, and Health and Medical Science deans, faculty and staff join together to wish the Class of 2020 all the best.
---
Best Wishes for our graduates from the College of Arts and Sciences, Health and Medical Sciences, Admissions, Student Services and Campus Ministry.
---
Faculty and administrators from Student Services, Business, Health and Medical Sciences, Diplomacy and others cheer on the Class of 2020.
Congratulations from Freshman Studies, Student Services, the School of Diplomacy and the School of Health and Medical Sciences.
---
The Deans of Education, Communication and the Arts and Theology join with colleagues from around our campuses to toast this special moment.
---
Staff from the Career Center, Diplomacy, Nursing, Campus Ministry and Student Services are bursting with pride.
---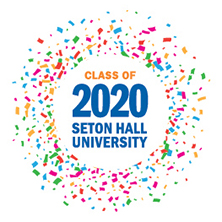 A Time to Reflect – A Week to Celebrate
After several amazing years of hard work and good times, all of Setonia stands together in this historic moment to congratulate the Class of 2020.
Graduates, take pride in what you've accomplished as you join the ranks of over 100,000 alumni worldwide. We are Seton Hall -- and we are cheering you on as you continue your life journey.