A Time to Reflect - Congratulations Class of 2020.
In-Person Ceremony Update: November 12, 2020
The University plans to hold in-person Commencement Ceremonies for the Class of 2020. These ceremonies are for our students who graduated in August or December 2019 or May 2020.
Like much of the planning and decisions the University has made over the past several months, Commencement decisions took into account a wide range of opinions and ideas. Planning for the Class of 2020 Commencement has been guided by a 30-member committee, comprised of a wide range of University representatives, including students.
Our highest priority remains the health and safety of students and families, coupled with two considerations:
New Jersey remains in Stage 2 of its reopening plan, which limits outdoor gatherings to 500 people and includes significant social distancing measures; and 
survey results indicating that the Class of 2020 overwhelmingly wants an in-person experience.
With this in mind, and to accommodate every member of the Class of 2020 who wishes to participate, there will be three outdoor ceremonies for Baccalaureate, Masters and Doctoral graduates on:
Friday, April 30, 2021 at 5 p.m.
Saturday, May 1, 2021 at 9:30 a.m.
Saturday, May 1, 2021 at 1 p.m.
Rain dates are scheduled on Sunday, May 2 and Monday, May 3. We anticipate these outdoor ceremonies will take place at the South Orange campus on the Galleon Lawn, next to the University Center. Further details and updates.
Seton Hall's deans, professors and staff from around our campuses are brimming with pride for the historic Class of 2020. Join them to toast this special moment. More special moments
---
Graduating amid the pandemic – the Class of 2020 is fearless, accomplished and determined to have an impact on the world. Quite simply, they are #SetonHallStrong. Read More about Seton Hall Strong
Parents, sisters, brothers, grandparents, aunts, uncles, cousins. They have been with you every step of the way. Now it's their turn to tell you how proud they really are. View these messages
---
  More Videos and Messages
---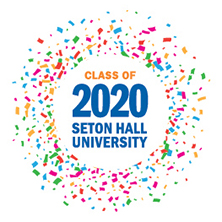 After several amazing years of hard work and good times, all of Setonia stands together in this historic moment to congratulate the Class of 2020.
Graduates, take pride in what you've accomplished as you join the ranks of over 100,000 alumni worldwide. We are Seton Hall -- and we are cheering you on as you continue your life journey. View messages from our online celebration: