A Time to Reflect - Congratulations Class of 2020.
Seton Hall's deans, professors and staff from around our campuses are brimming with pride for the historic Class of 2020. Join them to toast this special moment. More special moments
---
Graduating amid the pandemic – the Class of 2020 is fearless, accomplished and determined to have an impact on the world. Quite simply, they are #SetonHallStrong. Read More about Seton Hall Strong
Parents, sisters, brothers, grandparents, aunts, uncles, cousins. They have been with you every step of the way. Now it's their turn to tell you how proud they really are. View these messages
---
  More Videos and Messages
---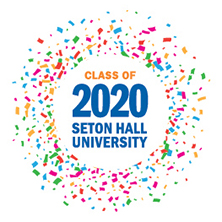 After several amazing years of hard work and good times, all of Setonia stands together in this historic moment to congratulate the Class of 2020.
Graduates, take pride in what you've accomplished as you join the ranks of over 100,000 alumni worldwide. We are Seton Hall -- and we are cheering you on as you continue your life journey. View messages from our online celebration: