What Catholic Studies Students Are Saying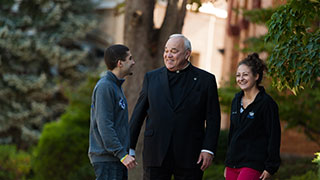 Offered as a major, minor or certificate, the Catholic Studies program explores the relationship between the Catholic Intellectual Tradition and all areas of culture and learning. From business to medicine, sociology to sports management, Catholic Studies is the perfect complement to any program of study.
But you don't have to take our word for it! Here's how some of our current students and alumni are applying their Catholic Studies education to a wide range of programs and careers. Click on each one's name to read his/her story in full.
Biology Major and Catholic Studies minor Hackensack Meridian School of Medicine
"My faith has always directed me in all aspects of my life. Being a Catholic Studies minor has helped to mature my faith and has inspired the level of care I aspire to give in my near future."
Catholic Studies and Sport Management Double Major
"Catholic Studies has direct roots from the Catholic Church and teaches what it means to be a true Christian in our world today. It prepares you for the moments when you will need to stand up for something you believe in or a time when you are challenged by a decision by a boss or a co-worker."
Diplomacy Major, Minors in Arabic and Catholic Studies
"Religion is a huge component in international relations. Religious leaders like Pope Francis are instrumental in shaping transovereign policies concerning climate change, immigration, and diplomatic relationships. As a young Catholic woman and student of Catholic Studies, I have a unique lens in which I view the international system. It is important for students of international relations and diplomacy to understand the international system through multiple lenses, especially religious ones."
PICU Nurse, The Children's Hospital of New Jersey at Newark Beth Israel Medical Center
"Studying Catholic Studies has aided me in many aspects of my life and career. Besides further improving my understanding of the Catholic faith, it also opened my eyes to see deep connections that are shared between all three Abrahamic religions. It allowed me to further appreciate the positive impact religion has brought to the world."
Incoming Student, Hackensack Meridian School of Medicine at Seton Hall University
"The Catholic studies program enriched my schooling because it complemented my science background by giving me a broad liberal arts education. During my medical school interviews, my Catholic studies education was brought up since it was unique and distinctive in comparison to other medical school applicants … I am grateful for my Catholic studies education, and I look forward to applying the principles and foundations I learned when I treat patients. The various Catholic studies faculty have given me the tools to face the moral and ethical dilemmas of tomorrow."
M.S. Physician Assistant Candidate, Seton Hall University
"The Catholic Studies program has allowed me to take classes, such as Catholicism Healthcare and Human Condition, that will help me make moral and ethical decisions as a future healthcare practitioner. This class in particular was transformative in my learning."
M.S. Education Administration Candidate, Creighton University
"The course that resonated with me the most was my Catholic Studies study abroad to Rome. Whether guiding my students on a virtual tour of St. Peter's Basilica or taking them to the Abbey of Grottaferrata or the house of St. Monica, the Catholic Studies study abroad is something I remember any time I teach Ancient Rome – my favorite topic to teach each year."
Founder, Theo & Harris
"… In the world of Catholic Studies, I'm an average student at best. But the analytical training I've endured just to complete my major has made all of the difference in my industry -- one filled with individuals entirely foreign to any methods of thought we Catholic Studies students are all too used to… While Neither Tertullian nor St. Augustine taught me how to run an effective online business in the 21st century, grappling with the questions, ideas and problems they posed centuries ago trained me to address the problems I face today. My major in Catholic studies helped maximize my critical thinking and processing abilities and allowed me to solve the issues I address regularly. I am so grateful for those teachings."
Doctoral Candidate in Sociology, West Virginia University
"The Catholic Studies degree prepared me well in the areas of research, writing, debate and public speaking. I look forward to taking what I learned in the program and using it when I teach classes of my own."
Infection Control Nurse, Hospital for Special Surgery; Graduate Student, Duke University
"The interdisciplinary nature of my studies has been important in my transition from an undergraduate student to a practicing clinician. The world of healthcare is not meant to operate in silos. We work together in teams with people from different fields. We are meant to share our expertise and learn from others. The foundation I have developed from my time as a Catholic Studies major has allowed me to have a more holistic worldview — a practice which I have taken along with me in my career."
Student, Rutgers New Jersey Medical School
"Learning tolerance, respect, and how to handle and understand different viewpoints was a large part of what Catholic Studies taught me, and those are skills I use every day at the hospital."