Delta Epsilon Sigma, Alpha Mu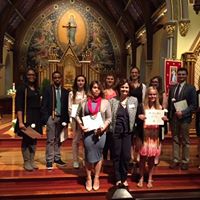 The Department of Catholic Studies sponsors Seton Hall University's Alpha Mu chapter of Delta Epsilon Sigma, a national scholastic honor society for students, faculty and alumni of colleges and universities with a Catholic tradition. Present at Seton Hall since 1941, only three years after the society's foundation in 1939, our Delta Epsilon Sigma chapter was one of the first established in the country.
Membership Requirements
Delta Epsilon Sigma recognizes academic accomplishments, fosters scholarly activities and encourages a sense of intellectual community among its members. To be eligible for membership, candidates must be persons who have a record of outstanding academic accomplishment, who have shown dedication to intellectual activity, and who have accepted their responsibility of service to others by various service activities, coming from all schools/colleges and disciplines all over the university.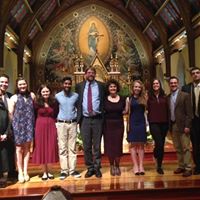 Undergraduate students shall have completed at least fifty percent of the credit requirements for their baccalaureate degrees and rank not lower than the highest twenty percentile of their class in scholarship. Junior and senior students must have a 3.5 or higher GPA and present one faculty nomination/letter of recommendation in order to be nominated for membership to Seton Hall's Alpha Mu Chapter of Delta Epsilon Sigma. Graduate students shall have completed one-half of the credit requirements for their degree and shall have a minimum grade point average of 3.5 on a 4.0 scale or its equivalent. There is a $65.00 fee to cover membership dues.
Faculty nominations/letters of recommendations should be emailed to Ines Murzaku at, Delta Epsilon faculty advisor, at [email protected]
Benefits of Membership
Student members of Delta Epsilon Sigma become members of a National Scholarly community that recognizes their high academic achievements, character and are distinguished for dedication to service.
Other benefits include:
Life-long subscription to the Delta Epsilon Sigma Journal containing essays, scholarly articles, poetry and short stories
Opportunities to apply for $1,000 scholarship competitions for study during their senior year and first year of graduate school
J. Patrick Lee Prize for Service $1,000 award
Opportunity to participate in a national writing competition for a prize of $500
Induction Ceremony
Seton Hall's Delta Epsilon Sigma induction ceremony occurs annually during the Spring semester in coordination with the University's Charter Day, a time when the Seton Hall community reflects on its great history and renews its commitment to make moral education a priority of the first rank.
For more on the society, click here »