Students Helping Students - Catholic Studies Students Forge Bridges with students in Turks and Caicos Islands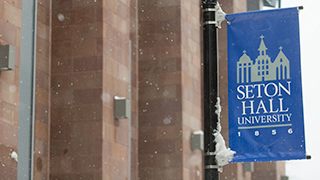 On Wednesday, March 3, 2021, Catholic Studies students and alumni from a variety of disciplines participated in an online conference with the middle and high school students of Holy Family Academy in Turks and Caicos. "This is a splendid experience for our students," said Dr. Ines Murzaku, Professor and Director of Catholic Studies Program, "students helping students find new career paths, ignite new interests for research and findings."
While in the past, the school's Education Week events were held in person, this year the school took advantage of the necessary online format to broaden the scope of the events. As Ms. Berenice Patiño, Online Education Coordinator for Holy Family Academy mentioned, the online format enabled the school "to invite people from outside the island to speak with our students. The goal was to broaden our students' horizons and to make them aware of different career paths available to them. In addition to that, we also wanted speakers who have their spirituality and faith as an important aspect of their life."
Ms. Patiño continued, "Many of the students were greatly helped by listening to the different speakers. They found the information both enlightening and inspiring. Listening to the speakers' experiences of college, studies, and work life also served to guide them in their discerning which careers they would like to pursue."
The Seton Hall students and alumni who were privileged to participate in the event also found it edifying, and they would like to share their gratitude for the opportunity to speak to the students of Holy Family Academy.
"I thoroughly enjoyed speaking with the students from Holy Family Academy and I am thankful for this opportunity that was brought to me through my Catholic studies major. Being able to share my pre-med experience with them and potentially inspire them on their path to choosing a career was very heartwarming. Many of the students were interested in learning more about how my Biology and Catholic Studies majors relate to each other and they seemed keen to pursue a similar course of study when they attend University. I was really proud to speak about the way Seton Hall's Catholic Studies Program incorporates and relates to various majors, as I believe this is what makes our program unique." - Paige Hawco, student, Biology and Catholic Studies double major.
"I loved giving these young children the hope to broaden their perspective on entering the science field, and to see how God works to specify what career He has in mind for us. When a student asked me, 'Miss, how did you know what career you wanted to have?', I was so touched and realized that I was around their age when I figured out that I was good at math and science and enjoyed helping pregnant women and their babies. It was marvelous to see how early on God was forming me towards a specific mission and career. Therefore, I gave them the advice to probably pursue a career in a subject they are passionate about and excel in. It was wonderful talking to them and hearing their input and questions!" - Marian R Hervias, student, Biology and Catholic Studies double major.
"I absolutely loved talking to the students at Holy Family Academy! When I was younger, politics was not an appropriate topic, let alone an appropriate career. I never had guest speakers who worked for politicians or on campaigns, so I want to be that person for young people. I know that I can make a difference in our world and enact meaningful change. Young people are powerful, and I want to make sure that every young person knows their innate power and use it to create lasting, meaningful change." - Catherine Wasson, student, Political Science major and Nonprofit Studies and Catholic Studies double major.
"I'd like to thank Holy Family Academy and the Department of Catholic Studies for this amazing event! It was very inspiring to share my education story and my research in computer science with the students, especially because they were so interactive and even gave me new research ideas! I loved their energy and curiosity about computer science and can't wait to see their successes in the future." - John Murzaku, alumnus, Mathematics major and Catholic Studies minor now Ph.D. student in Computer Science in the School of Engineering - StonyBrook University in Long Island.
About Catholic Studies:
The Catholic Studies program at Seton Hall University offers an innovative, interdisciplinary curriculum for students of any creed who are interested in deepening their knowledge of Catholicism's rich intellectual tradition and living heritage. Combining the study of history, philosophy, theology, literature, art, sociology, and other disciplines, Catholic Studies focuses on the Church's dialogue with culture and encounter with the world. Students interested in Catholic Studies have the option to pursue a major, minor, or certificate that complements and enhances the university's other degree programs and fields of study. Over 20 years the academic program and its variegated activities have stayed true to and fulfilled the Catholic mission and vision of the University. For more information, please contact Ines Murzaku, PhD., Director of the Program of Catholic Studies at [email protected] or Gloria Aroneo at [email protected].
Categories: Education, Faith and Service