Seton Hall University Becomes the First in the Nation to Receive Pope Francis' Apostolic Blessing
Thursday, December 5th, 2013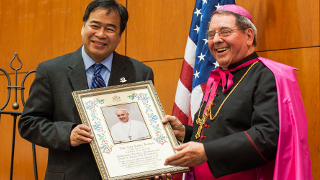 The Holy Father, Pope Francis, has imparted the Apostolic Blessing to Seton Hall University, making it the first and only university in the United States to claim such a rare honor.
Archbishop John J. Myers presented the Apostolic Blessing to President A. Gabriel Esteban and the Seton Hall community on Wednesday, December 4, in Jubilee Hall to a full house of nearly 400 participants attending the inauguration of the Archbishop John J. Myers Annual Lecture Series on Law, Society and Faith. The event was sponsored by the university's Department of Catholic Studies.
"The Apostolic Blessing from Pope Francis is an extraordinary recognition, honoring our talented faculty, students, administrators and staff," said Seton Hall President Esteban. "It is also a testament to Seton Hall's unwavering dedication to fulfilling its Catholic mission."
In May, Ines Angeli Murzaku, Chair of the Department of Catholic Studies, wrote a letter to Pope Francis, announcing the establishment of the department at Seton Hall and respectfully requesting the Pope's blessing and his special prayer for the University and for the Department of Catholic Studies, its faculty and students. It took several months to hear back from the Vatican, as this request was new and unique.
On July 22, news from Archbishop Myers's office arrived that Seton Hall University was granted the Blessing from the Holy Father. "I was thrilled," said Murzaku, "this is an amazing distinction for Seton Hall University and the Department of Catholic Studies."
Established in 2012 — the international Year of Faith for the Roman Catholic Church and the 50th anniversary of the opening of Vatican II — the Department of Catholic Studies at Seton Hall University, fosters the University's Catholic identity and mission by exploring the relationship of Catholicism with all areas of culture and learning. Catholic Studies is a dialogue between Catholicism and culture that occurs in a special way at Catholic universities. Seton Hall is the first university in the eastern United States to create a Department of Catholic Studies and is America's oldest diocesan university.
News of the Pope's Blessing immediately generated a sense of excitement and pride among the entire Seton Hall community.
Msgr. James Cafone, S.T.D., Vice Chair of the University's Board of Trustees and professor in the Department of Catholic Studies, expressed his gratitude for the honor that the Pope has entrusted to Seton Hall.
"Like many other academic institutions, our students, faculty, administration and staff are working to deepen our sensitivity and understanding," he said. "This Pope's blessing provides encouragement to our entire campus community to more fully embrace Seton Hall's Catholic identity and mission."
Nancy Enright, associate professor of English and Catholic Studies, was also thrilled upon hearing the news of the announcement.
"I feel a special closeness to Pope Francis," said Enright. "He is being true to the Gospel and calling the church to a new level of commitment, especially when it comes to an awareness of the poor and of social injustice. I feel deeply honored for our program to receive a blessing from the Holy Father, who is truly walking in the spirit of St. Francis. I think the blessing shows the Pope's awareness of our program and his support. This is a beautiful thing that we must try to live up to. The values of the Gospel should undergird all we do, especially how we treat our students and each other."
At the event, John L. Allen Jr, prize-winning senior correspondent for the National Catholic Reporter and the senior Vatican analyst for CNN, inaugurated the series with his lecture "We're All Franciscans Now: Pope Francis and the Social Agenda of Catholicism in the 21st Century."
"As a diocesan university under the Archbishop of Newark, we take our Catholic mission and identity very seriously," Murzaku said. "We launched the annual lecture series as a tribute to Archbishop John J. Myers, and we are thrilled to have John Allen inaugurate it. He is the most celebrated Vaticanist in the English language. Allen brings people together; he is a bridge builder, a widely read author and a source of insight and inspiration. The impact from his lecture, I hope, will be long-term."
About Seton Hall University
One of the country's leading Catholic universities, Seton Hall University has been a catalyst for leadership — developing students in mind, heart and spirit — since 1856. Home to nearly 10,000 undergraduate and graduate students and offering more than 80 rigorous majors, Seton Hall's academic excellence has been singled out for distinction by The Princeton Review, US News & World Report and Bloomberg BusinessWeek.
Seton Hall, which embraces students of all religions, prepares its graduates to be exemplary servant leaders and caring global citizens. Its attractive main campus is located in suburban South Orange, New Jersey, and is only 14 miles by train, bus or car to New York City, offering a wealth of employment, internship, cultural and entertainment opportunities. The university's nationally recognized School of Law is prominently located in downtown Newark.
For more information, visit www.shu.edu.