Director of Catholic Studies Selected for Fulbright Specialist Award to Teach in Rome
Wednesday, April 25th, 2018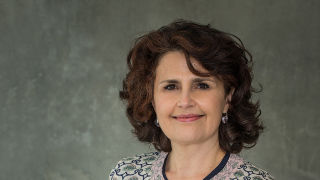 Ines Angeli Murzaku, Ph.D., professor of church history and director of the Catholic Studies program, has been selected by the J. William Fulbright Foreign Scholarship Board for a Fulbright award to Università degli Studi Roma Tre in Rome, Italy.
"I am honored to welcome you into the Fulbright family," writes Jeffrey L. Bleich, chair of the Fulbright Board, in his letter to Murzaku. He adds, "Your selection for a Fulbright award is an achievement for which you can be justly proud. We hope that your Fulbright experience will be deeply rewarding professionally and personally, and that you will share the knowledge and experience you gain with many others throughout your life." Fulbright Specialist awards are funded by the U.S. Department of State, Bureau of Educational and Cultural Affairs (ECA).
Università degli Studi Roma Tre is a top ranking public university in Italy offering bachelor's and master's degrees, postgraduate and advanced degrees, and several Ph.D. programs. Murzaku will deliver specialized seminars and lectures focusing on the role of religion in contemporary society, and the role of minority religions including Byzantine-Catholics or Greek-Catholics of Southern Italy and their chances for preservation and survival in Italy. Her work will benefit students and faculty and foster bridges of cooperation between Seton Hall University and Università degli Studi Roma Tre.
The Department of Political Studies, with which Murzaku will be affiliated, has currently 63 faculty members whose scholarship and teaching span across the fields of political science, international relations, government, history, economics, church history, peace research, and others. The department offers undergraduate programs in political studies and international relations and political studies for cooperation and development, as well as several graduate programs in international relations, European studies, and political science (including among others tracks in European and international studies, East-European studies and gender studies.
The Fulbright Program aims to increase mutual understanding between the people of the United States and the people of other countries. Fulbright alumni have become heads of state, judges, ambassadors, cabinet ministers, CEOs, and university presidents, as well as leading journalists, artists, scientists, and teachers. They include 57 Nobel Laureates, 82 Pulitzer Prize winners, 70 MacArthur Fellows, 16 Presidential Medal of Freedom recipients, and thousands of leaders across the private, public and non-profit sectors. Since its inception in 1946, more than 370,000 "Fulbrighters" have participated in the Program.