Presentation to be Held on Blessed John Henry Newman's Cause for Sainthood
Tuesday, February 19th, 2019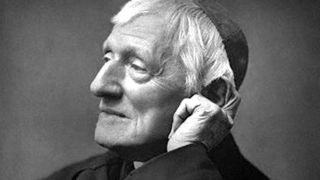 Seton Hall University's Catholic Studies Program and University Core Curriculum, proudly present Blessed John Henry Newman Cause for Sainthood on Thursday March 28, 2019, 12:30 p.m. to 6:00 p.m. Chancellor's Suite, University Center (Lower floor). Blessed John Henry Newman's Cause for Sainthood is presently in process. Newman (1801-1890) has been called the "absent Father of Vatican II" because his writings conscience religious liberty, Scripture, the vocation of lay people, the relation of Church and State, and other topics were extremely influential in the shaping of the Council's documents. Although Newman was not always understood or appreciated, he steadfastly preached the Good News by word and example and became a model for many in our time.
Speakers include:
Monsignor Gerard McCarren, S.T.D.
Associate Professor of Systematic Theology, Spiritual Director for the Immaculate Conception School of Theology, Seton Hall University - Invocation and Introduction of Conference
Kenneth Parker, Ph.D.
Ryan Endowed Chair for Newman Studies, Professor of Historical Theology, Duquesne University
"Idol or Iconoclast?: Blessed John Henry Newman as a Saint for the Times"
Ryan Marr, Ph.D.
Instructor in Theology, Duquesne University
"A Saint for This Season: The Fittingness of Canonizing Newman in Our Time"
Monsignor Richard M. Liddy, Ph.D.
Director, Center for Catholic Studies, Professor of Catholic Thought and Culture, Seton Hall University
"Newman and the Mission of the Catholic University"
Charles C. Shea, Ph.D.
Teaching Fellow, University Core, Seton Hall University
"Newman and Education in the 21st Century"
Arundhati Sanyal, Ph.D.
Senior Faculty Associate, Department of English, Seton Hall University
"Style That Informs The Truth Within: Cardinal Newman's Prose Style -- A Study"
The event is co-sponsored by Center for Catholic Studies and Department of Religion, is free and open to the public and is also an ACE Event.
About Catholic Studies:
The Catholic Studies Program at Seton Hall University offers an innovative, interdisciplinary curriculum for students of any creed who are interested in deepening their knowledge of Catholicism's rich intellectual tradition and living heritage. Combining the study of history, philosophy, theology, literature, art, sociology, and other disciplines, Catholic Studies focuses on the Church's dialogue with culture and encounter with the world. Students interested in Catholic Studies have the option to pursue a major, minor, or certificate that complements and enhances the university's other degree programs and fields of study. Over 20 years the academic program and its variegated activities have stayed true to and fulfilled the Catholic mission and vision of the University.
For more information, please contact Dr. Ines Murzaku at [email protected] or (973) 275-2808 Gloria Aroneo at [email protected] or (973) 275-2808.