Living in Truth, and Love, Lessons from Saint Moscati
Wednesday, October 3rd, 2018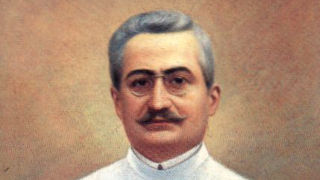 Giuseppe Moscati (1880-1927)
The Catholic Studies Program proudly presents "Living in Truth, and Love, Lessons from Saint Moscati, Doctor of the Church" presented by Deacon John M. Travaline, M.D.
The event will take place on Tuesday, October 30 at 2 p.m. in the Faculty Lounge – University Center.
The event is free and open to the public.
About the Lecture:
Giuseppe Moscati (1880-1927), a physician, medical school professor, and pioneer in the field of biochemistry, was canonized in 1987 during the synod of bishops on the laity. Not often is someone with a professional degree from a modern secular university declared a saint. Moreover, it is positively earth shattering when an internationally acclaimed scientist becomes a certified miracle worker.
About the Speaker:
Deacon John M. Travaline, M.D., a specialist in bioethical issues in Catholic medicine, will present a talk about the life, work and faith of Saint Giuseppe Moscati. Dr. Travaline is a practicing Pulmonary Disease Specialist in North Philadelphia and has been in practice for 27 years. He is also a deacon of the Archdiocese of Philadelphia.
About Catholic Studies:
The Catholic Studies Program at Seton Hall University offers an innovative, interdisciplinary curriculum for students of any creed who are interested in deepening their knowledge of Catholicism's rich intellectual tradition and living heritage. Combining the study of history, philosophy, theology, literature, art, sociology, and other disciplines, Catholic Studies focuses on the church's dialogue with culture and encounter with the world. Students interested in Catholic Studies have the option to pursue a major, minor, or certificate that complements and enhances the University's other degree programs and fields of study.
For more information, please contact Dr. Ines Murzaku at [email protected] or (973) 275-2808 Gloria Aroneo at [email protected] or (973) 275-2808.