Internship in Catholic Studies - Mexico
Monday, October 17th, 2022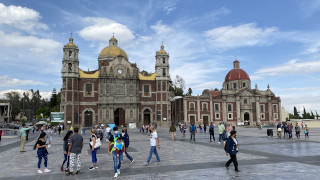 The Department of Catholic Studies and the College of Nursing invite you to develop a stronger appreciation of the culture and history of the region surrounding Puebla, Mexico, as you simultaneously learn about the healthcare system of the region and the Catholic Intellectual Tradition that underpins the provision of healthcare.
Led on this study tour by Josephine DeVito, Ph.D., R.N., Associate Professor in the College of Nursing, students will gain first-hand experience in exploring nursing and healthcare in Mexico and in applying the Catholic Intellectual Tradition and its core values of respect, compassion, caring and stewardship. The study tour will allow students to become acquainted with the daily lifestyle of the Mexican people and to understand more fully the contributions that Catholic faith and practice make to daily life in Mexico.
The tour will include visits to Basílica de Guadalupe, Teotihuacán, Museo Barroco, and other sites of cultural interest. Lectures about the intersection of the provision of healthcare and Catholic Intellectual Tradition will be facilitated by the Universidad Popular Autónoma del Estado de Puebla (UPAEP), with which Seton Hall formed a partnership as part of its membership in the International Federation of Catholic Universities (IFCU). The course will carry three credits, and the trip will be held during Spring Break 2023 (March 3-March 11, 2023).
Registration Details:
The Department of Catholic Studies is pleased to present Catholic Intellectual Traditions of Healthcare in Mexico - Internship in Catholic Studies CAST 3891/NUTH 3891/CORE 3911
This is a faculty-led study abroad in Mexico. This three-credit course/study abroad trip will take place from March 3-March 11, 2023. The group will meet for classes prior to and after the study abroad experience (day and time will be determined).
The cost of the trip is approximately $2,200.00. This price includes all air and land transportation, hotel accommodations (double occupancy), breakfasts and evening meals, and all museum/site admission fees. Anyone wishing to apply for this course/trip must contact Josephine DeVito as soon as possible, with a written explanation as to why he or she is interested in this course/trip.
Click HERE for more information regarding the program.
Limited Space Available.
Those accepted into the course will be required to submit a non-refundable deposit of $500.00 by November 15, 2022.
Categories: Arts and Culture, Faith and Service