Professor Murzaku and Catholic Studies Student to Speak at International Symposium on Pope Francis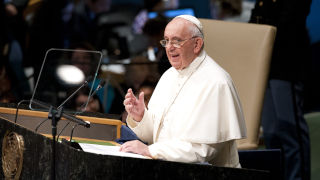 Ines Murzaku, Ph.D., Professor of Religion and Director of Catholic Studies, has been invited to speak at a symposium celebrating the 10th anniversary of the papacy of Pope Francis. This virtual global conversation, featuring noteworthy practical theologians and clergy from around the world, will take place from 9 a.m. to 11 a.m. on Thursday, May 18, 2023. Register here.
Sponsored by the Institute for International Communication at the Lesley H. and William L. Collins College of Professional Studies, St. John's University, this symposium will focus on the theme "Fratelli Tutti: Bringing People Together." Basilio Monteiro, Ph.D., Director of the Institute for International Communication at St. John's University, is organizing the event.
Joining Murzaku as distinguished presenters will be His Eminence Cardinal Sean O'Malley, Archbishop, Archdiocese of Boston; Most Rev. Theodore Mascarenhas, Auxiliary Bishop, Archdiocese of Ranchi and Apostolic Administrator of the Diocese of Daltonganj, India; and Friar Dr. Joseph Kwame Blay, OFM Conv, Ghana, Africa.
Seton Hall student Kennedy Dierks '23, a pre-medical student with a double major in Catholic Studies and Biology, as well as a minor in Art History, will join the panel. Anticipating her experience sharing a student's perspective on the topic of the symposium, Dierks said, "I am honored to join this conversation about Fratelli Tutti and share my own experience in University, as well as continue to implement fraternal dialogue in my personal and professional life." Dierks, who plans to apply to medical school, will be pursuing a master's degree in Health Administration at Seton Hall, beginning this fall.
At the symposium, after an opening prayer by Rev. Michael Cummins, CM, Assistant Dean and Director of Internal Research and Enrollment Management at St. John's University, Luca Iandoli, Ph.D., Distinguished Chair and Dean of the College of Professional Studies at St. John's University will deliver a welcome message. Monteiro will introduce the speakers, whose conversation will be moderated by Christopher Vogt, Ph.D., Associate Professor of Moral Theology at St. John's University.
Emphasizing the importance of conversation in the global movement toward fraternity, which Pope Francis has championed, Monteiro noted, "More than ever, today it is imperative to engage in global conversations on fraternity, which Pope Francis ceaselessly promotes. This global conversation is a small attempt to keep the voice of the Pope vibrant."
Engaged in multiple global initiatives to encourage interdisciplinary, interuniversity, interreligious, and international conversations, Murzaku is well positioned to share reflections on what she sees as trends in collaboration and cooperation, as inspired and enabled by the papacy of Francis. A major emphasis of her work is to share with the international community the successes that Seton Hall has enjoyed through opening up dialogue across the university and with other institutions of higher education, making for a holistic education and a true sense of community and mission.
"I am honored to participate in what I'm sure will be a fruitful conversation at this symposium," said Murzaku. "Pope Francis has emphasized collaboration and brotherhood—in his writing, his preaching, and his actions. I am looking forward to furthering the discussion about what this means for all of us, practically, today—what we can and should do to bring people together in the interest of the common goals of promoting human dignity."
Categories: Faith and Service, Nation and World