Catholic Studies Publishes New Volume of Arcadia
Thursday, September 15th, 2022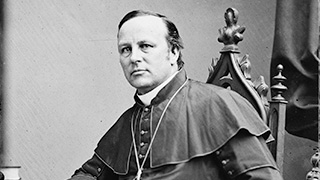 The Catholic Studies Department and Program is pleased to announce the publication of the latest volume of Arcadia: A Student Journal for Faith and Culture. This volume celebrates the 180th anniversary of the conversion to Catholicism of Bishop James Roosevelt Bayley, the founder of Seton Hall University who uniquely paved the way for contemporary Catholic life in New Jersey. Additionally, it presents three outstanding essays by Seton Hall undergraduate students exploring issues relevant to their interdisciplinary studies and their personal experience.
The first section of the journal includes reflections on the legacy of Bishop Bayley and his role in shaping Catholic life in New Jersey. A former Episcopal minister, of a prominent New York family, he was called to conversion through his work among poor Irish immigrants and through his collaboration with the Catholic priests in Harlem, and he was encouraged in his conversion by his cousins, the children of St. Elizabeth Ann Bayley Seton. Following his conversion, he was ordained a priest and soon was consecrated the first bishop of Newark. In this role, for 20 years, Bishop Bayley devoted himself to Catholic education in New Jersey, laying the foundation for Catholic education's outreach to children of all faiths. During his tenure, the Catholic school system developed tremendously in New Jersey, and the state saw the foundation of Seton Hall University and the Immaculate Conception Seminary.
"Bishop Bayley's conversion to Catholicism was a focal point of the programming of Catholic Studies at Seton Hall this spring," said Ines Murzaku, Ph.D., Director of Catholic Studies. "On our Catholic Studies study abroad trip, Foundations of Christian Culture, I led an enthusiastic group of students in the footsteps of Bishop Bayley, visiting the Chiesa del Gesù in Rome, where Bishop Bayley was received into the Church. We were thrilled to collaborate with the Priest Community and the Office of Mission and Ministry to present for the University community a lecture by Rev. Msgr. Raymond Kupke, Ph.D., Adjunct Professor of Church History at Immaculate Conception Seminary School of Theology: 'Bishop Bayley's Conversion and Legacy in the Church in New Jersey.' This lecture was complemented by a Library window display curated by Alan Delozier, D.Litt., University Archivist and Adjunct Associate Professor of Catholic Studies." The first section of this volume of Arcadia features Msgr. Kupke's lecture, as well as text and images from Dr. Delozier's window display.
The journal's second section presents a group of essays by Seton Hall University undergraduate students. Each of these essays pertains to living the Faith in our contemporary world. The three student writers explore the inspirations and challenges that Catholics experience in the realms of intellectual exploration, worship, and the path to sainthood. The first essay, by Chiara Schwartz, uses scientific, theological, and philosophical inquiry to delve into perspectives on the unity of faith and science. In the second essay, Giselle Pineda develops one segment of this topic, discussing the relationship between faith and reason, specifically in reference to Eucharistic miracles and belief in the Real Presence of Christ in the Eucharist. In the third essay, Joshua Novello discusses the path to sainthood for Fr. Mychal Judge, O.F.M., a priest with special contemporary, local, and, for Mr. Novello, personal significance.
"The Catholic Studies Program at Seton Hall is fertile ground for scholarship on issues of local and universal significance in Catholic Studies," said Dr. Murzaku. "We are excited to be able to publish a journal with high-quality work by our students and faculty year after year."
Categories: Faith and Service