Catholic Studies Celebrates the Life of Fr. Stanley Jaki in Rome
Thursday, March 7th, 2019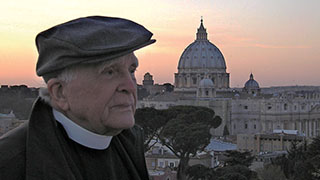 As we approach the 10th anniversary of the death of Father Stanley L. Jaki, OSB, STD, Ph.D, Seton Hall University physics professor from 1965-2009, Catholic Studies faculty and students will gather at the Casa Santa Maria in Rome (Via dell'Umiltà, 30, Rome) for a Memorial Mass and scholarly exchange on the legacy of Father Jaki on March 15, at 5 p.m.
Father Joseph R. Laracy, who first began teaching in Catholic Studies in 2016, will be the principal celebrant of the Mass. His recent doctoral research in fundamental theology at the Pontifical Gregorian University has utilized the insights of Father Jaki to promote a dialogue with another great theology-science scholar, Ian G. Barbour. Dr. Ines A. Murzaku, Professor of Ecclesiastical History and Director of Catholic Studies will speak about Fr. Jaki's living legacy at Seton Hall University. Catholic Studies faculty member and President of the Father Jaki Foundation, Father Paul Haffner, will speak on the intellectual legacy of Father Jaki. Father Haffner is the author of Creation and Scientific Creativity: A Study in the Thought of S. L. Jaki. From Rome, Father Haffner teaches an online, very popular course for Catholic Studies, "The Popes and Science," which introduces students to Papal teaching on the relations between Christian Faith and natural science.
The event is free and open to all.
About Catholic Studies:
The Catholic Studies Program at Seton Hall University offers an innovative, interdisciplinary curriculum for students of any creed who are interested in deepening their knowledge of Catholicism's rich intellectual tradition and living heritage. Combining the study of history, philosophy, theology, literature, art, sociology, and other disciplines, Catholic Studies focuses on the Church's dialogue with culture and encounter with the world. Students interested in Catholic Studies have the option to pursue a major, minor, or certificate that complements and enhances the university's other degree programs and fields of study. Over 20 years the academic program and its variegated activities have stayed true to and fulfilled the Catholic mission and vision of the University.