Conference to Honor Canonization of Blessed Paul VI
Saturday, September 8th, 2018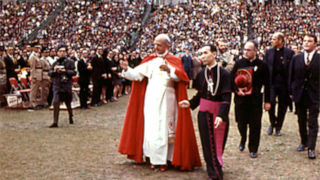 Catholic Studies Program in collaboration with faculty from the Departments of Communication, Journalism, and Public Relations, Core, Religion and Undergraduate Theology at Seton Hall University is organizing a conference entitled: Blessed Paul VI – The Prophetic Pope.
The conference will bring together Seton Hall faculty members who specialize in theology, ethics, literature, philosophy and Church history, to explore the complex yet very relevant theology and thought of Pope Paul VI. The conference will investigate the ethics of Paul VI's 1968 encyclical Humanae Vitae, ecumenism and inter-religious dialogue, and the pontiff's prophetic visit to the USA and the United Nations. The conference will celebrate Pope Paul VI's canonization on October 14, 2018 in St. Peter's Square by Pope Francis.
The conference will take place on Tuesday, October 2 at 1 p.m. in the Chancellor Suite – University Center.
The event is FREE and open to the public.
Conference Program
Blessed Paul VI – The Prophetic Pope
Blessing - Msgr. Robert Coleman
Opening Remarks – Dr. Peter Shoemaker
I session – Paul VI's Ethics of Humanae Vitae
Chair - Dr. Jon Radwan
1. Paul VI and the Social Ethics of Life, Dr. Ki Joo Choi
2. Humanae Vitae as Hermeneutic for Understanding True Human Development, Dr. Joseph Rice.
3. Lessons from Paul VI's Year of Faith and the Fallout after Humanae Vitae, Dr. Jeffrey Morrow
4. The Hermeneutics of Continuity: What did Paul VI have to do with John Paul II in the drafting of Humanae Vitae? Dr. Ines Murzaku
II Session – Paul VI's Ecumenism
Chair – Dr. Gregory Floyd
1. Paul VI, Ecumenical Pioneer, Msgr. John Radano
2. Pope Francis and Pope Paul VI on the role of the laity, Dr. Nancy Enright
3. Paul VI and the Legacy of Paenitemini, Dr. Maria Morrow
4. Paul VI – A Pope at the Plate: the Yankee Stadium Homily, Fr. Douglas Milewski
About Catholic Studies:
The Catholic Studies Program at Seton Hall University offers an innovative, interdisciplinary curriculum for students of any creed who are interested in deepening their knowledge of Catholicism's rich intellectual tradition and living heritage. Combining the study of history, philosophy, theology, literature, art, sociology, and other disciplines, Catholic Studies focuses on the church's dialogue with culture and encounter with the world. Students interested in Catholic Studies have the option to pursue a major, minor, or certificate that complements and enhances the University's other degree programs and fields of study.
For more information, please contact:
Dr. Ines Murzaku at [email protected] or (973)-275-2808
Gloria Aroneo at [email protected] or (973)-275-2808