Blessed Miriam Teresa Demjanovich: A Catholic Breathing with Two Lungs
Thursday, February 9th, 2023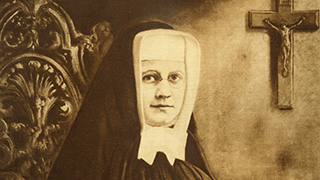 The Department of Catholic Studies and the G. K. Chesterton Institute for Faith and Culture proudly present Msgr. James Cafone S.T.D. Annual Lecture entitled "Blessed Miriam Teresa Demjanovich: A Catholic Breathing with Two Lungs." This lecture will take place on Thursday, March 30, at 2:30 p.m. in Bethany Hall A.

Join us to learn about and celebrate this "Jersey girl" – an example for us all, who showed by her life that we are all called to sanctity. Her practice of faith, both East and West, will be a focus of this lecture, that focuses Blessed Miriam Teresa, who found her path to sanctity right here, in the Garden State, and whose intercession continues to garner blessings in the lives of the faithful.
About the Lecture:
Blessed Miriam Teresa Demjanovich was a Bayonne-born woman who was baptized, charismated (confirmed), and received Holy Communion at Saint John the Baptist Byzantine Ruthenian Catholic Church in Bayonne. She attended and graduated from the College of Saint Elizabeth (now Saint Elizabeth University) at Convent Station. Several years later, she entered the convent there and professed solemnly in the oldest order of Roman Catholic nuns in the United States. She remained both East and West until her death and serves as an example of living the Catholic faith simultaneously breathing with both lungs, as taught by Saint John Paul II in his encyclical Light of the East. This lecture will explore some of the hidden aspects of the Eastern Catholic life of this blessed woman, most especially dealing with Byzantine celebrations of Christmas and Pascha.

About the Speaker:
Father Joseph Bertha holds a Ph.D. in art history and currently serves both Saint John the Baptist Church in Bayonne (Blessed Miriam Teresa's birth parish) and Saint Mary's Church Jersey City.
About Catholic Studies
Catholic Studies at Seton Hall University offers an innovative, interdisciplinary curriculum for students of any creed who are interested in deepening their knowledge of Catholicism's rich intellectual tradition and living heritage. Combining the study of history, philosophy, theology, literature, art, sociology, and other disciplines, Catholic Studies focuses on the Church's dialogue with culture and encounter with the world. Students interested in Catholic Studies have the option to pursue a major, minor, or certificate that complements and enhances the university's other degree programs and fields of study. Over 20 years the academic program and its variegated activities have stayed true to and fulfilled the Catholic mission and vision of the University. For more information, please contact Ines Murzaku, Ph.D., or Gloria Aroneo.
About the G. K. Chesterton Institute for Faith & Culture:
The G. K. Chesterton Institute for Faith & Culture at Seton Hall University, South Orange, N.J. was founded in 1974 by Father Ian Boyd, C. S. B.. Its purpose is to promote the thought of G. K. Chesterton and his circle and more broadly, to explore the application of Chestertonian ideas in the contemporary world. The Institute's work consists of conferences, lecture series, research, and writing. The Chesterton Review, founded in 1974, has been widely praised both for its scholarship and for the quality of its writing. The journal was founded by Father Ian Boyd, C. S. B., and is edited by Dermot Quinn, Dr.Phil. It includes a wide range of articles not only on Chesterton himself, but on the issues close to his heart in the work of other writers and in the modern world. It has devoted special issues to C. S. Lewis, George Bernanos, Hilaire Belloc, Maurice Baring, Christopher Dawson, Cardinal Manning, the Modernist Crisis, J. R. R. Tolkien, Fantasy Literature, Fantasy Literature, Special Polish Issue, Special Charles Dickens issue, the most recent "Special Conversion Issue," and many others. For information about the Institute and The Chesterton Review please contact [email protected] or visit the Chesterton webpage.
Categories: Faith and Service