The Ukrainian Church: A Repository of National Identity
Wednesday, March 6th, 2019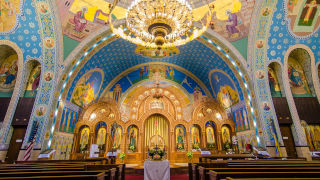 Seton Hall University's Catholic Studies Program will proudly present "The Ukrainian Catholic Church: A Repository of the National Identity" from 11:00 a.m. to 3:00 p.m. on Thursday, April 4, 2019, in the Chancellor's Suite, University Center (Lower floor).
About the Lecture
"The Ukrainian Catholic Church: A Repository of the National Identity"
is a look at the history of a national movement for independence and how that movement depended on the Catholic faith for nurturing, growth and final fruition. The Ukrainian people returned to the fold of the Universal Church in 1596 with the Union of Brest. The faithful accepted this as not only a realigning with the Catholic Church, but for the protection of their Ukrainian national identity. The symposium will look at the different aspects of this incredible relationship between the Ukrainian Catholic Church and the national identity of Ukraine.
Speakers Include:
Robert Marko, Ph.D.
Professor of Theology, Aquinas College
"The Virtue of Patriotism in Metropolitan Andrey Sheptytsky and Christ Our Pascha: An example of Catholic Social Doctrine on Solidarity"
Nicholas Denysenko, M.Div., Ph.D.
Emil and Elfriede Jochum Professor and Chair, Valparaiso University
Deacon, Orthodox Church of America
"The Orthodox Church of Ukraine: An Ancient Infant"
Adam DeVille, Ph.D.
Associate Professor and Director of Humanities at the University of Saint Francis; Editor, Logos: A Journal of Eastern Christian Studies
"Dying for the Telephone Company: Towards a Theological Analysis of Ukrainian Nationalist Aspirations"
The event is free and open to the public.
About Catholic Studies:
The Catholic Studies Program at Seton Hall University offers an innovative, interdisciplinary curriculum for students of any creed who are interested in deepening their knowledge of Catholicism's rich intellectual tradition and living heritage. Combining the study of history, philosophy, theology, literature, art, sociology, and other disciplines, Catholic Studies focuses on the church's dialogue with culture and encounter with the world. Students interested in Catholic Studies have the option to pursue a major, minor, or certificate that complements and enhances the university's other degree programs and fields of study. Over 20 years the academic program and its variegated activities have stayed true to and fulfilled the Catholic mission and vision of the University.
For more information, please contact:
Dr. Ines Murzaku at [email protected] or (973) 275-2808
Gloria Aroneo at [email protected] or (973) 275-2808.