The Career Center Offers Support for First and Second Year Students
Thursday, March 2nd, 2023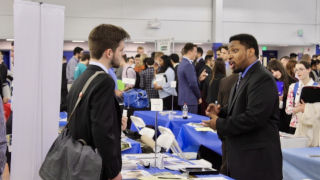 If you are a first or second year student, the Career Center is here to support you as you navigate college and discover your desired career path.
A great place to start is to meet with your career advisor. Each student has a career advisor that works specifically with those in their major as part of their success team. To schedule an appointment, visit Compass, which is one of the widgets within PirateNet. Once logged into Compass, navigate to the righthand corner to schedule an appointment with your career advisor. Each advisor also offers drop-in appointments. At your appointment, you can discuss various topics, such as resumes, cover letters, interview preparation, and job/internship search strategies.
You also have access to Handshake, the job, internship, and event database managed by the Career Center. It can be accessed through a widget on PirateNet. Through Handshake, you can look for an internship that will help to build your resume and confidence when applying for future positions. You can also attend virtual events hosted by companies like Google, Warner Bros. Discovery, and Morgan Stanley that range from informational sessions to Q&A panels with professionals.
In terms of networking, the Career Center encourages you to create a LinkedIn profile. You can add past experiences and skills to your profiles, which can continue to be added to once you become more involved on campus. To help build your online network, you are able join the Seton Hall University Career Center Network, which consists of over 5,000 Seton Hall students and alumni. Once joined, you can browse the group's members to connect with peers and alumni in your desired field. You also have access to the group's internship postings, full-time position postings, and informational articles from alumni and career advisors.
For more face-to-face networking, you are welcome to attend Career Center events. You can attend the Spring 2023 Career Expo on March 29 from 3-5 p.m. in Bethany Hall to practice your networking skills by talking to professionals from over 100 companies; this can help build your network and confidence.
If you are unsure of your career path, the Career Center offers Candid Career, a platform with thousands of videos that provides information on careers and advice on searching for jobs and internships. Candid Career can be accessed through its widget on PirateNet.
The Career Center also offers Pirate Plans, which gives you guided recommendations on what to accomplish each year of college depending on your professional area. All plans can be accessed through the Career Center website.
For more resources and events, you can visit the Career Center website to help prepare for your future.
Categories: Campus Life