Students Visit PR Firm Sloane & Company with the Career Center
Tuesday, April 25th, 2023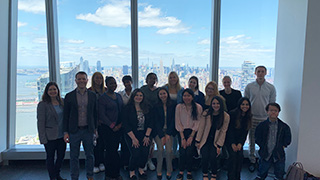 Students and Career Center staff with Caleb Barnhart, a Seton Hall alum and a senior vice president at Sloane & Company.
Students traveled with the Career Center on April 19 to visit PR firm Sloane & Company at their World Trade Center office in New York City.
According to their website, Sloane & Company is an industry-leading strategic communications firm that was founded in 1998 and is "known for intelligence, creativity, and focus on getting results."
Students attended the site visit for a variety of reasons. Many, like Phoebe Hampson, a sophomore communication major, wanted a better sense of what a PR firm is like.
"I thought it would be nice to look around a PR firm, see what the roles and the responsibilities in the industry are like, and get that firsthand knowledge," Hampson said.
Upon arrival, students were taken into the World Trade Center and up to the Sloane & Company office on the 63rd floor. Students were first given a brief office tour to see the workspaces and get a peek at their views of Manhattan, Brooklyn, and New Jersey before they were brought into a conference room to learn more about the firm.
The informational session began with a presentation by Caleb Barnhart, a Seton Hall alum and senior vice president of Sloane & Company. Barnhart started by showing video greetings from the Co-CEOs Darren Brandt and Whit Clay. He went on to give students a brief overview of the firm, discussing the size, office locations, clients, and practice areas.
Students learned about Sloane & Company and the public relations field from Barnhart and other professionals.
Students gained more insight into the company and the PR industry through a panel discussion with Senior Digital Analyst Alden Ewing, Account Supervisor James Goldfarb, and associates Maya Bogle, Katie Eswkitt, and Ellen DeGiusti. During the discussion, students heard about the responsibilities and daily tasks of PR professionals. They also learned about the panelists' varied backgrounds, showing that a PR major is not required to work in the industry.
Students were invited to ask questions during the panel to dig deeper into topics they wished to learn more about, and they were also able to continue these conversations in a more personal setting as the professionals stayed for lunch.
Lindsay Tillinghast, a sophomore public relations major, said she learned a lot from the professionals within both settings.
"It was most beneficial that many of them were only a few years older than me and had insightful advice on how to build my career," she said.
After lunch, Account Supervisor Lizzie Fineman talked to students about Sloane & Company's summer internship program. Graduating seniors were also encouraged to ask about the firm's entry-level associate positions.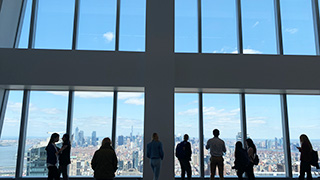 Students check out the views of Manhattan, Brooklyn, and New Jersey from the sky lobby.
To wrap up the day, Barnhart took students up to the sky lobby on the 64th floor where they could get a closer look at the views of Manhattan, Brooklyn, and New Jersey.
Overall, all students were engaged during the visit and learned a lot about both Sloane & Company and the PR industry.
Brianna Millican, a sophomore public relations major, said that this site visit helped to shape her post-graduation goals.
"I realized I do want to work at a PR agency, so I will definitely pursue that," Millican said. "I got a lot of good advice on how I can make myself stand out to the people who review resumes and cover letters. It was also nice to find out what a day at a PR agency is like, what the environment is like, what they do, and how they work with clients."
For more information on the Career Center's upcoming site visits and events, make sure to check their Instagram, website and Engage page.
Categories: None