Students Explore Newark Museum of Art Exhibits and Careers on Road Trip with The Career Center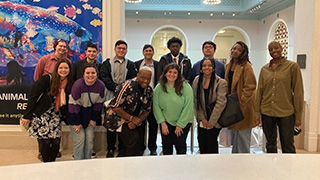 Seton Hall students and staff pictured with museum employees after their site visit.
Seton Hall students attended a "Road Trip" to the Newark Museum of Art on March 17, coordinated by The Career Center and Museum Professions program.
According to their website, the Newark Museum of Art was founded in 1909 and is the state's largest museum. It offers various collections, exhibitions, programs, and educational resources.
Museum staff from various departments met with the students for a panel discussion in which they talked about their professional backgrounds, how they began working in the museum field, and their roles at the museum. The staff also answered student questions to help them better understand what it is like to work at a museum. From the panel, students learned that all the employees had unique backgrounds that led them to this point in their careers and that many did not know that they wanted to work in museums until they were in college.
For students interested in working at a museum, the employees suggested they attend events at their desired museum and talk to the employees to help them stand out. To keep up to date with Newark Museum of Art's programs and events, the employees said to follow their Instagram. They also told students to connect with them and other museum employees on LinkedIn. Once connected, the employees said to message them to learn more about their positions.
Students also toured two aspects of the museum, the first being Animal Kingdom. Students experienced "Sketch Aquarium: Connected World," where they colored in a fish of their choice that was then scanned and came to life in a digital interactive aquarium projected onto the wall.
Students also explored the "Seeing America: 18th & 19th Century" collection. According to their website, it centers around often-overlooked subjects and critical perspectives, and it consists of historical pieces and 13 new artworks by contemporary artists of color. This collection is a part of the museum's approach to addressing the lack of representation and missing perspectives within art. The panels describing the pieces in this collection and throughout the museum are written in both English and Spanish to better reflect and serve the Newark community.
The Career Center is hosting its next trip to the public relations firm Sloane & Company in Manhattan on April 19. This visit will allow students to network with leadership and employees to learn about working at a PR firm.
If interested, students must apply by April 7. Contact Juliana Gijima at [email protected] for more information about the Sloane & Company site visit.
Categories: Arts and Culture, Education