Students Network with Professionals at the Spring 2023 Career Expo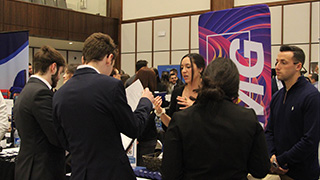 Students interacting with professionals from KPMG at the 2023 Career Expo.
Students attended the Spring 2023 Career Expo on March 29 to network with representatives from over 100 companies.
All students were invited to attend the event in Bethany Hall between 3 to 5 p.m. to speak with employers. Many students were successful at the Career Expo, including Trevor Russomanno, a junior marketing major, who said that he networked with a variety of companies.
"I've been coming to all of Seton Hall's career fairs, and, in the beginning, I get a little nervous, but after talking to some recruiters, it's really interesting, and you get to hear about some great opportunities," Russomanno said. "I was able to talk to some different companies that I have never really heard of, as well as some that I have applied for, following up with them about some internships."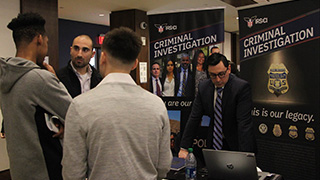 Students interacting with professionals at the 2023 Career Expo.
Sofie Palumbo, a sophomore criminal justice major, said she got the opportunity to talk to FBI agents at the Career Expo that she met previously through site visits to their Newark office organized by the Career Center.
"I came to the career fair today to be more in contact with the FBI," Palumbo said. "I've been on two field trips with the Career Center to visit them in the Newark office, and a couple of the agents I'm familiar with are here today, so I'd figured I'd continue to connect with them, talk to them more, and get a little bit more experience."
A special feature of the Career Expo for seniors was the "Senior Time Block," where they were allowed to talk to professionals a half hour earlier than the rest of the student body. The seniors who took advantage of this opportunity also received a professional portfolio with a built-in phone charger.
Many seniors were successful at the Career Expo, including Ethan Hom, a secondary education and history double major.
"I had a great time at the Career Expo today," Hom said. "I met some great people and made some great networking connections. I was able to speak to a group that connected me with the hiring manager who was on site, and I got an interview for tomorrow, so I'm looking forward to it. It was a great event, I'm so glad I came."
Hom spoke with Beacon Hill Staffing Group, who held on-campus interviews the next day with students they met at the Career Expo; Hom was selected for the technical recruiter role and will be starting in this position after graduation.
Companies from a variety of industries were present at the Career Expo, each in attendance to network with students and discuss open internships and full-time positions. Many of the employers expressed their high regard for Seton Hall, including Kim Lauski from the Community FoodBank of New Jersey.
"Seton Hall is one of the top schools in the area, and the students are really prepared," Lauski said. "I think the school does a great job of preparing the students for that next step after graduation."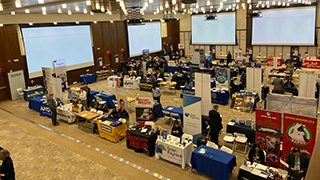 Professionals preparing for students at the 2023 Career Expo.
The Career Fair was rebranded as the Career Expo due to the new student expo, which gave both professionals and students the opportunity to learn about sixteen Seton Hall students' success stories. Attendees were first introduced to the participating students with a poster display in Bethany Hall. During the Career Expo, presentation slides were projected throughout Bethany Hall to give attendees insight into what companies students have interned at and what the highlights of their experiences were.
Three of those featured in the student expo were Janasia Carter, a junior political science major that interned with the United States Pretrial Service Agency as a student contractor, Matheus Bueno, a senior visual and sound media major who was a production intern at the Late Show with Stephen Colbert, and JuanDaniel Lotero, a junior history major that worked as a legal intern at Spector Forest & Associates.
For more networking opportunities, students can browse the Career Center website, Engage page, and Instagram.
Categories: Campus Life, Education