Need Professional Attire? Pirate's Closet Can Help!
Thursday, February 23rd, 2023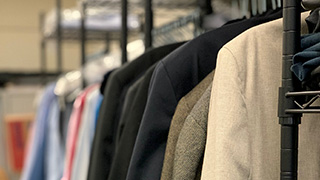 A selection of free business attire in Pirate's Closet.
Goal 3 of the University's Strategic Plan is to create a premier, mission-centered, and engaged student experience that is equitable and consistent, enhances student support and retention, and prepares students to be impactful global citizens. One area of Goal 3 aims to improve awareness and expand the usage of support services in the Career Center. The Career Center's mission is to facilitate career development and experiential education opportunities that empower students to engage in lifelong career management. The team provides a learning environment to ensure students are prepared for professional success and service to the common good. This year, the Career Center increased awareness and expanded usage, reaching an all-time employment rate of 98.5%, an increase of 3% from the previous year.
Developed as an idea by junior Jason Santos and his business classmates in the Buccino Leadership Institute, the Career Center helped to launch the Pirate's Closet initiative to support student success, access, and affordability. On February 17, Monica Burnette, Ph.D., Vice President of Student Services, interviewed Jorge E. Rivera, Director of the Career Center, to learn more.
What is Pirate's Closet and whom does it serve?
Available to the student body at Seton Hall University, Pirate's Closet is a supportive, open resource for professional business attire. It aims to improve student access and affordability to professional clothing and remove potential economic barriers.
Why is Pirate's Closet a priority for the Career Center?
Pirate's Closet is an important initiative for our Career Center because it helps students overcome some of the financial barriers that may prevent them from participating in our career fairs and professional development events. By providing free business attire, the Career Center is helping to level the playing field for those who may not be able to afford the necessary professional clothing to make a positive first impression in job interviews. Additionally, it can help to alleviate some of the stress and anxiety that may come with the job search process. Lastly, it supports diversity, equity, and inclusion (DEI) initiatives by providing a resource that ensures our students from all backgrounds have equal access and an equitable experience to opportunities.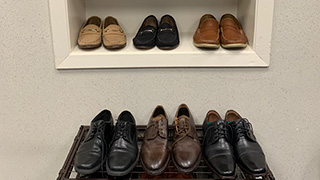 Where is Pirate's Closet located, and how can students find more information? Do they have to make an appointment?
Pirate's Closet is located on the 2nd floor of Bayley Hall in Suite #209 at our South Orange campus. Appointments are not required, but we highly recommend you visit our career center website to complete our Business Attire Request Intake (available starting 02/27/23) to confirm the availability of outfits and sizes. Our operating hours are from Wednesday through Friday, 10:00 am to 4:00 pm. Please note that on Mondays and Tuesdays, we are closed while Division of Volunteer Efforts (DOVE) team members organize, restock, and manage inventory control. The Career Center is thankful for its partnership with DOVE which has been instrumental in the success of Pirate's Closet. To sign up to be a DOVE volunteer, learn more here.
How does Pirate's Closet align with our University's strategic plan?
By providing our students with such a valuable resource, we support Goals 3 and 4 of Seton Hall's Strategic Plan and demonstrate our University's daily commitment to fostering impactful global citizens and servant leaders among our student body. Furthermore, Pirate's Closet also supports Goal 5 of the Strategic Plan, which aims to advance institutional sustainability and environmental efficiency. Recycling clothing reduces landfill sites, water usage, and one's carbon footprint.
How can community members donate their time, clothing, or other resources for this cause?
There are several ways for community members to donate time, clothing, or other resources to support this great cause. First, you can send or drop off your gently used clothing to the Pirate's Closet/Career Center (400 South Orange Avenue, Bayley Hall Room 209, South Orange, New Jersey 07079). If you prefer, email us at [email protected] to arrange a possible pickup. For monetary donations, please visit the Career Center site's online page (available from 02/27/23). If you are interested in volunteering at Pirate's Closet, please call The Career Center at (973) 761-9355 and ask to speak to one of our team members to obtain further information.
What's the future for Pirate's Closet?
The future of Pirate's Closet at Seton Hall University can be encapsulated by two words - growth and longevity. We are committed to expanding our inventory and ensuring this initiative is sustainable for decades. A new student executive board was established for Pirate's Closet. They are enthusiastic about collaborating with the next group of undergraduates to ensure that someone always leads this initiative with an authentic passion. Our objective is to ensure that it remains a valuable resource for future Pirates.
For more information about the Career Center or Pirate's Closet, contact Jorge E. Rivera at [email protected] or visit the website.
Categories: Business, Campus Life